Two Sessions and Seven VEs Net Two New Techs and One General
Sep 16, 2017
Test Session - Thursday, September 14, 2017
Special thanks to Roger Fouse KB5ROD and Jim Collom for coming up on a Thursday evening for an ad-hoc VE test session.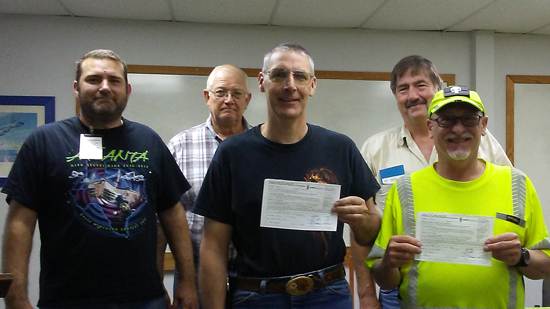 L to R: Jerry Goodson W5BFF, Roger Fouse KB5ROD,
Harold McMullen KE5WCW, Jim Collom N5YU, and Bryan Loper KG5VDK
Harold McMullen KE5WCW wanted to upgrade to general, but couldn't make the test session after the regular RACC club meeting on Saturday. Three VEs were available, so we stood up an ad-hoc test session. Bryan had planned on taking his technician exam on Saturday, but was invited to attend the special session that was stood up for Harold.
Congratulations to Harold McMullen KE5WCW for upgrading to general, and to Bryan Loper KG5VDK for passing the technician exam!
Test Session - Saturday, September 16, 2017
What's better than three VEs for a single test candidate? How about SEVEN!? Michael Searcy WX5WMS of Henderson brought 16-year-old Jake Stegall KG5VDL, also of Henderson, to our club meeting so he could test for his technician. Michael's VE credentials are from the W5YI-VEC, so we couldn't list him as on official VE. We are an ARRL-VEC team. However, we listed him as a non-VE and still let him assist us.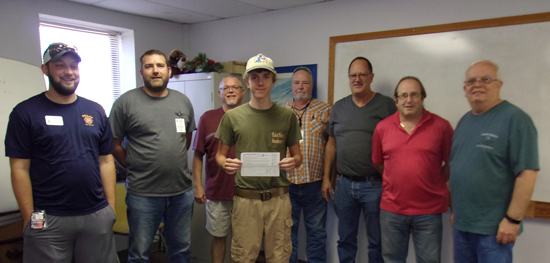 L to R: Michael Searcy WX5WMS, Jerry Goodson W5BFF, Arthur Christy KF5VWN,
Jake Stegall KG5VDL,
Richard Arthur N5RGA, Steve Rogers AF5JR, Ralf Vopel KF5WGB, and Buddy Cunningham N5LUC
Jake passed his technician, and Michael was immediately on the phone with Richard at the Main Trading Company in Paris, Texas. Michael asked Richard if he'd stay open a little longer in case they didn't make it up there in time after leaving Atlanta. Shortly after this picture was taken, Michael and Jake got on the road so Jake could buy his first rig.
Congratulations to Jake Stegall for passing the technician exam!
---
---