Sorry Sucker Trashes 'Freedom Lickers'
Aug 30, 2016
By Jerry A. Goodson W5BFF
Let me introduce you to that guy. It's very rare I would call someone out by name and call sign in a publication, but after someone sent me a link to his QRZ page, he already busted himself out. That guy is the guy that nobody wants to be! That guy in this case is Billy Adams N5YSQ of Paris, Texas.
I would like to encourage you to read the following to refresh yourself with the very first section of Part 97 before reading on about "that guy."
TITLE 47—Telecommunication
CHAPTER I—FEDERAL COMMUNICATIONS COMMISSION (CONTINUED)
SUBCHAPTER D—SAFETY AND SPECIAL RADIO SERVICES
PART 97—AMATEUR RADIO SERVICE
Subpart A—GENERAL PROVISIONS
§97.1 Basis and purpose.
The rules and regulations in this part are designed to provide an amateur radio service having a fundamental purpose as expressed in the following principles:
(a) Recognition and enhancement of the value of the amateur service to the public as a voluntary noncommercial communication service, particularly with respect to providing emergency communications.
(b) Continuation and extension of the amateur's proven ability to contribute to the advancement of the radio art.
(c) Encouragement and improvement of the amateur service through rules which provide for advancing skills in both the communication and technical phases of the art.
(d) Expansion of the existing reservoir within the amateur radio service of trained operators, technicians, and electronics experts.
(e) Continuation and extension of the amateur's unique ability to enhance international goodwill.
Last night, someone sent me a text message asking me to look at that guy's QRZ.com profile page. (https://www.qrz.com/db/N5YSQ)
I was absolutely floored! I had heard the mumblings and rumblings about that guy causing harmful interference on the linked repeater systems, or acting obnoxiously on the air while intoxicated, or even the talks of the complaints filed with the FCC about his "abusive behavior," but having never directly witnessed or experienced any of it, I never spread it around. However, when I typed in that guy's call sign in QRZ.com, I could read it for myself. I captured a screen shot of his profile page last night, and copied/pasted the text that corresponds with what that guy had posted as of the date/time stamp on the header image. Feel free to read it below: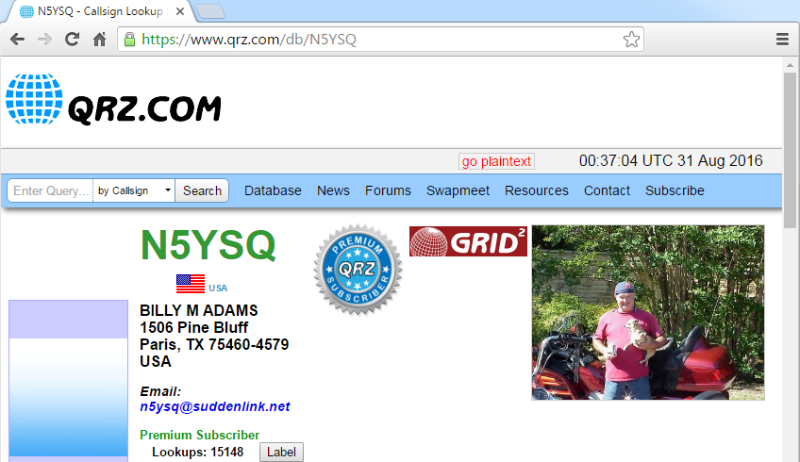 I like Cold Beer, Ham Radio, Computers , and the Internet, especially DIGITAL MODES. I do not like RF-LINKED Repeaters, CONSTANT EMISSION, QRM, IRLP, ECHOLINK and what some "Water HEADED IDIOTS" call 'Under the THRESHOLD' Operation. Take this to HEART, DSTAR has ALMOST rendered VHF/UHF frequencies useless.
All methods of communications other than RF are for the wannab'ees, could have been's, will be's. JUST LISTEN if you don't agree..
Update: Quarter 4 2015
Yaesu Fusion is GREAT, compared to RF LINKING, 25 year old Technology is and has been OUT OF DATE.
You can "TRY TO LINK" 25 to 30 year old TECHNOLOGY, as in the "NCTC GROUP" and / or the "FREEDOM LICKERS"
that are only trying to use 15 or 20 year old TECHNOLOGY.. This does not and has not worked, creates plenty of QRM though.. GET REAL PEOPLE, just like old HUMANS, There is a time to move on..
But, I don't care WHO you are, OR WHERE YOU COME FROM.. If YOU as a 3rd PARTY to Yaesu FUSION
Yaesu DV (barring 3rd Party add on's is the wave of future) Get READY..
Can't get your stuff correct.. DO NOT blame the Yaesu folks.
This DOES APPLY to DV Dongles, DV-Mini, DMR etc.. Just a FACT..​
And FOR DAMN SURE, if you try to get D-STAR to work on Yaesu Fusion or WiresX...
JURY out on D-STAR working with Yaesu Fusion...
Good luck with that.. Ain't worked so far, in all areas..
Kinda like this.. YOU can get the BEST SEWING MACHINE ever invented, and THEN
Get the BEST SEAMSTRESS's Available, BUT the cold hard FACT remains.
A Coonskin CAP can NOT be made out of a MONKEY HIDE..
JURY returned, D-Star works well on D-Star reflectors, It don't work worth a damn on Yaesu Networks
D-PRS is not compatible with REAL APRS for one thing and it PLAYS HELL for official APRS transmissions..
JAVA does not help either.. makes QRM from everyone when JAVA / LINUX gets involved.. Another FACT...
No matter if you use DVDONGLES, DV4Mini's, Rasberry PI's.. or any OTHER Half Ass conversion Interface..
Another FACT.. Harley's are a HELL OF A LOT BETTER than used to be.. Takes over 100 miles to burn up at over 90 mph.
More or less a FAMILY MOTORCYCLE, husband ride m/c wife drive truck that pulls trailer to haul back home..
Thanks for checking my call
Rev: N5YSQ - Mon Aug 31 11:27:35 1998
7496970 Last modified: 2016-08-10 16:44:27, 2665 bytes
The RF-linked repeater systems need no defense. They have revived the hobby in this area exponentially! No facet of the hobby is for everybody, and RF-linked repeater systems are no exception.
Instead of the trash-talking, judicious use of the VFO or even the "OFF" switch would better serve that guy.
Parting shot: Don't be that guy.
---
---