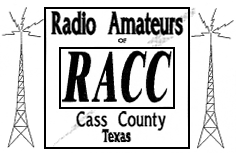 *** NEWSLETTER ***
May 2016
From the Editor: Jerry A. Goodson W5BFF
Greetings members, friends, and associates of the Radio Amateurs of Cass County.
If you haven't noticed, http://www.raccradio.org has a brand new look! The domain and website transition is complete. What's not complete is the content that still needs to be added. I'm including a LOT of ham related resources from frequencies and technical info to training and sales links. The website software I'm using actually sent this very newsletter to you and archived it for later viewing at the same time! I'm going back and looking for a lot of club historical information, and I will post it on the new site as I find it. I know I still have some older newsletters to get posted up, but my newsletters only go back so far. If you have some of the older stuff sitting around, please make a copy for me. If you have some older newsletters (before I joined the club at the end of 2014) still sitting in your email, please forward them to me.
Field Day 2016 is coming up next month! Check the Field Day section under upcoming events in this newsletter for some updates. If you can help out, please let Kyle Wayne know... he's worked pretty hard at planning an awesome Field Day experience for the RACC this year, and I don't even think he's done, yet!
I am now a bona-fide ARRL Volunteer Examiner. After I got my notification I was approved as a VE, I contacted the ARRL and became listed as the VE Team Liaison. In spite of the post-meeting activities at the airport, we will offer testing for those wishing to become licensed or those wanting to upgrade their existing license.
Aside from the sausage and pancake breakfast everyone raves about, the highlights for this month's meeting will be the election of our club vice-president to finish the remainder of the year. Paul James KG5JTC and Ralf Vopel KF5WGB are the two candidates. There will be a printed ballot, and only paid-up members are eligible to vote, so be sure to check the current 2016 member roster to make sure you're current. The roster can be found here: RACC Member Roster
The OTHER highlight of the meeting is our monthly drawing. Our prizes seem to get better each month, and this month is no exception! The prizes this month are a weather radio, a Yaesu FT-1900, and a Yaesu FT-2900! Everyone who shows up to the meeting gets one complimentary ticket. Additional tickets can be purchased for $1 each. Two-thirds of the money collected goes toward purchasing drawing prizes for the next meeting, and one-third goes into a fund to maintain the repeater system.
We are not having a special program this month due to the Fly-In that is scheduled immediately following the club meeting. Tevis Pappas K5EJD requested club members help out with various functions of the Fly-In. I've received the following firm commitments to help with the event:
The Goodson Family W5BFF, KG5GMC, KG5HGA, KG5HFZ, and KG5HFY
Ralf and Sherlene Vopel - KF5WGB and KG5CWZ
Danny and Karen Richard - KG5ESG
Jim Collom - N5YU (manning the aircraft radio for parking planes)
Richard Arthur - N5RGA (bringing a SxS buggy)
Sabrina Pollard and her husband, Larry - W5DMI
Pop and Sally Hunt - KF5WSU and KF5WSW
Nelton Humphries - N5HAB
All the food, all the prizes, and all the fun... why would anybody NOT show up at the meeting on Saturday?
The Freedom Link Group did it again! Yesterday, they added another repeater 145.470 (-) 136.5 that will provide coverage for the Lake O' the Pines area. The repeater is installed and on the air at Dalton's Corner at the intersection of FM 729 and TX Hwy 155. It's a great addition for the Lake O' the Pines area for recreational use as well as advance weather warnings on the Freedom Link System.
I know it wasn't much, but that's all I've got (to include the sarcasm in this statement). I'll catch you on the net tonight!
73
-=Jerry A. Goodson=- W5BFF
---
License and Member Status Information for Jerry Goodson

FCC Database Information for W5BFF: [LINK]


JERRY A GOODSON
2674 CR. 3214
ATLANTA, TX 75551
FRN: 0008557175
License Class: GENERAL
License Expiration: 06/05/2023




Your amateur radio license expiration date is more than a year out.



Have you considered upgrading your license? You can study for free by clicking on the picture below.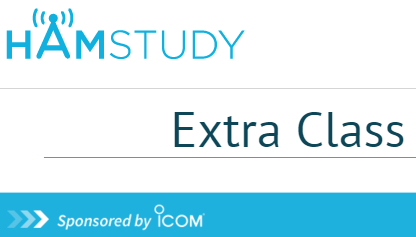 https://hamstudy.org/extra2016

You are a lifetime member of the Radio Amateurs of Cass County.



Our records indicate you are a member of the American Radio Relay League. The RACC is an ARRL Affiliated Club, and we thank you for your membership and support!
---
Upcoming Events:
Click [HERE] for all upcoming events on the RACC Website...
Club Meeting – May 21
The RACC club meeting is held every 3rd Saturday of the month. Show up at 8:30am and have a pancake breakfast while visiting with other area hams. The meeting starts at 9:00am and usually lasts around an hour. The breakfast and club meeting is open to everyone.
*** A VE Test session will be held after the meeting for those wishing to test! ***
Ham-Com - June 10 & 11 http://www.hamcom.org/
Ham-Com is at the Irving Convention Center in Irving, TX, and runs from 8a-5p on both days.
*** Schedule does conflict with the Steven Smith Memorial Cruise Night in Atlanta on the 10th***
ARRL Field Day - June 25-26

This year, the RACC will set up for Field Day at the Atlanta Airport. Event planning is well under way. We're hoping for a good turnout and a lot of participation from club members this year!
POC: Kyle Wayne Goodson KG5HFY KG5HFY@gmail.com
WE NEED RADIO STATIONS! If you have a radio you can bring out and set up, please let Kyle Wayne know.
We will also have full networking capabilities, as well. We'll be using the Field Day Logger by N3FJP Software. Download and install the software on your laptop, and we'll provide the license key when you show up.
All food will be provided at no cost, but donations will be accepted.
Here's the tentative schedule:
Saturday:
09:30 - Show up and start setting up tents, tables, layouts, etc.
11:30 - Break for lunch... on your own and on the economy
13:00 - Start setting up generatos, computers, radios, and antennas. Get on the air as quick as possible! Field Day has officially begun!
16:00 - Antenna Launcher Contest! Got a spud gun? Bring it on out and show off your skills! We'll see who can launch the farthest, and see who can land closest to a target. No cost to compete, and each winner gets individual 1-yr paid membership to the ARRL (donated by W5BFF) Kyle Wayne KG5HFY is the official judge.
18:00 - Hot dogs and hamburgers! Jerry W5BFF will be grilling hot dogs and hamburgers!
*** VE Testing will be available as needed ***
Sunday:
08:00 - Sausage and Pancake breakfast. Just like at our regular club meetings, Ladonna KG5GMC will be cooking us some sausage and pancakes.
09:00 - Prayer meeting. It is Sunday, after all... and some of us will be missing church to attend Field Day. We'll have a small service.
12:00 - Lunch will be sandwiches and finger foods.
16:00 - Cease on-air operations! Our 27 hours stops here. Take down and clean up shouldn't take any longer than an hour.
17:00 - Jerry W5BFF needs a shower! :)
SARA Hamfest - August 13: http://www.shreveporthamfest.org
Texas QSO Party and Tailgate Sale - September 24 & 25
The Tailgate sale on Saturday will start at 7am and go until noon or everybody sells everything... whichever comes first.
The Texas QSO Party runs from 9am-9pm on Saturday, and 9am-3pm on Sunday. The goal is to make at least one contact in each of the 254 Texas counties. Contacts will primarily be made on 40 meters, but contacts on ALL HF bands count!

NET INFO: RACC Net Tuesday nights at 8:00pm

146.980 (-) 100.0 - The RACC Repeater connects to the Freedom Link Group repeater system for the RACC/Freedom Link Group wide-area net.

When checking in on remote nets, please wait for the net control operator to call for check-ins in your area. They usually make the calls by repeater. Remember to key up and wait about one full second before you start to speak. Prefix your call sign with "Net control, this is..."

This is necessary for all of the repeaters to connect up. Otherwise, the first part of your traffic will be cut off.

FREEDOM LINK GROUP: Contact Jim Collom, N5YU

"Linking Radio Communications Across The Four States Area"

Freedom Link Group Repeaters:

145.100 (-) 136.5 - Quitman, TX W6TUG
145.170 (-) 100.0 - Karnack, TX Picken's Hill
145.310 (-) 100.0 - Atlanta, TX Springdale
145.390 (-) 100.0 - Texarkana, TX Barkman Creek
145.470 (-) 136.5 - Avinger, TX Dalton's Corner / Lake O' the Pines
146.640 (-) 136.5 - Longview, TX Longview/East Texas Amateur Radio Club Repeater
146.840 (-) 100.0 - Marietta, TX Cussetta Mountain
147.045 (+) 107.2 - Nashville, AR Howard County Emergency Amateur Radio Club Repeater
147.360 (+) 100.0 - Pittsburg, TX Midway
444.425 (+) 100.0 - Texarkana, TX Barkman Creek

"100% RF Connected Full Time Linked System"
The Freedom Link Group is listed in the RepeaterBook.com directory.
www.repeaterbook.com

Various Nets on the Freedom Link Group:
Sunday Nights – Nashville's Howard County Emergency Net at 9:01 PM
Tuesday Nights – The RACC Ragchew Net connects with the 146.670 ARCOS group at 8:00 PM
Thursday Night – We RBI Link with the ARCOS Net 146.670 at 8:00 PM

For other VHF Nets in the area, please visit our VHF Nets page!

Club Contacts:


Newsletter: newsletter@raccradio.org
Editor - Jerry A. Goodson, W5BFF
430-342-3376 - Cell

RACC Club: racc@raccradio.org
President - Jerry Goodson, W5BFF
Vice President - Paul James, KG5JTC
Treasurer - Cletus Bauer, N5XFB

RACC Website: www.raccradio.org

Join our group on facebook! Go to www.facebook.com/groups/RACCradio/

At any time you can unsubscribe from the RACC Newsletter.