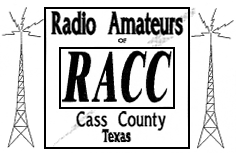 *** NEWSLETTER ***
February 2018
From the Editor: Jerry A. Goodson W5BFF

Greetings! (...and Happy New Year!)
I know it's a little late to be saying "Happy New Year," but this is the first newsletter published since last year! Our third annual New Year Net that kicked off a few years after the stroke of midnight on New Year's Day went off without a hitch. The repeaters on the Freedom Link Group system and RACC sounded great making all that racket!
Roger KB5ROD was a little under the weather and couldn't make last month's meeting, but he's been rock solid on being there as our net controller.
Special thanks to the VE Team last month! The test session netted three new technicians... and one EXTRA! Congratulations to Jeff Bickham KG5LFQ on the upgrade!
Speaking of Jeff KG5LFQ... his son didn't test with us, but did test in Texarkana. Jared just got his call sign yesterday: KG5YHQ.
On the agenda this weekend is the purchase of a new fridge at the airport. Tevis Pappas K5EJD is asking the club to pitch in half (around $200), and the airport association to pitch in the other half to purchase a new fridge. To be honest, we use it for our breakfast more than any other group. Ladonna KG5GMC normally does the shopping for breakfast supplies on the Thursday or Friday before the club meeting, then leaves it at the airport so everything is ready to start cooking when she gets there.
There's a new 6 Meter repeater going up in our area very soon! Jim N5YU will have all the details this weekend, so this will be a meeting you won't want to miss!
I will also be adding various hamfests and other events to the website in the coming week. I *THINK* I made all the member updates in the database, so check your personal information below. If something is incorrect (ARRL membership status, club membership status, etc...) then please reply to this email and let me know.
I look forward to hearing you on the net tonight and visiting with you this Saturday!
-=Jerry A. Goodson=- W5BFF
Upcoming Events:
Click [HERE] for all upcoming events on the RACC Website...
---
---
Happy Valentine's Day!

The Cass-Morris County ARES Training Nets are every 2nd Wednesday at 8pm on 145.190MHz (-) 151.4hz tone.

Following the Cass-Morris County ARES Training Net, ARES members are encouraged to jump on HF for the North Texas Section ARES Net on 3860kHz.

Join us on the ARES Training Net... and bring your Valentine!
---
Freedom Link Group Repeaters

"Linking Radio Communications Across The Four States Area"
http://www.freedom-link.org
Contact Jim Collom, N5YU
The Freedom Link Group on www.repeaterbook.com
View Freedom Link Group Repeaters on Google Maps

Freq.
ENC / DEC
Input
Call
Location
145.110
100.0 / *
144.510
WX5FL
Sulphur Springs
* The 145.110 repeater at Sulphur Springs does not transmit a tone, so make sure your radio is programmed for "ENC" only on that frequency.
145.170
100.0 / 100.0
144.570
WX5FL
Karnack (Pickin's Hill)
145.190
151.4 / 151.4
144.590
WX5FL
Bi-County ARES (Cass and Morris County)
The 145.190 repeater is a wide coverage area stand-alone repeater that is not linked with any other repeater.
145.310
100.0 / 100.0
88.5 / 100.0 or CSQ
131.8 / 100.0 or CSQ
144.710
WX5FL
Atlanta (Springdale)
Caver Ranch RCO
Downtown RCO
145.370
136.5 / 136.5
144.770
W5WVH
Tyler ** Not yet linked
145.390
100.0 / 100.0
144.790
WX5FL
Texarkana (Barkman Creek)
145.450
136.5 / 136.5
144.850
WX5FL
Kilgore
145.470
136.5 / 136.5
144.870
WX5FL
Avinger (Lake O' The Pines)
146.640
136.5 / 136.5
146.040
K5LET
Longview (East Mountain)
146.760
186.2 / 186.2
146.160
N5SHV
Shreveport
146.840
100.0 / 100.0
146.240
WX5FL
Marietta (Cussetta Mountain)
146.900
100.0 / 100.0
146.300
WX5FL
McLeod / Huffines
147.045
107.2 / 94.8 *
147.645
N5THS
Nashville (H.E.A.R. Club)
* For local traffic only, use 94.8 / 94.8.
147.100
136.5 / 136.5
147.700
WX5FL
Quitman
147.360
151.4 / 151.4
147.960
WX5FL
Pittsburg (Midway)
444.425
100.0 / 100.0
448.425
WX5FL
Texarkana (Barkman Creek)
---
Club Contacts:


Newsletter: newsletter@raccradio.org
Editor - Jerry A. Goodson, W5BFF
430-342-3376 - Cell

RACC Club: racc@raccradio.org
President - Paul James, KG5JTC
Vice President - Roger Fouse, KB5ROD
Treasurer - Cletus Bauer, N5XFB

RACC Website: www.raccradio.org

Join our group on facebook! Go to www.facebook.com/groups/RACCradio/

At any time you can unsubscribe from the RACC Newsletter.