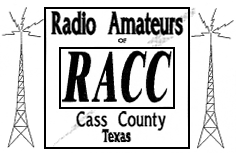 *** NEWSLETTER ***
November 2017
From the Editor: Jerry A. Goodson W5BFF

Greetings fellow amateurs and supporters of the Radio Amateurs of Cass County!
The club meeting coming up this weekend marks our final regular club meeting of 2017. Come join us for sausage and pancakes at 8:30 followed by our regular business meeting. Ladonna KG5GMC will be back in the kitchen. Special thanks to my mom, Connie Smith KA5TKL for cooking last month. Nelton N5HAB, Boogie N5GNR, Bubba N5APP, and I will miss another meeting as we travel with the drumline to Lewisville, Texas for their final competition of 2017, so there should be plenty of food in our absence! :)
Speaking of our absence, I would like to nominate Nelton Humphries N5HAB for president for two reasons: first, he doesn't ever read this newsletter, and second, he won't be there to object since he'll be with us at the competition this weekend. :)
We have our elections this weekend (more info below), and we'll have our Christmas party next month at Luigi's.
Also, special thanks goes out to the VE Team last month that netted two new licensees and two upgrades to General!
I look forward to hearing you on the net tonight.
-=Jerry A. Goodson=- W5BFF
Upcoming Events:
Click [HERE] for all upcoming events on the RACC Website...
---
---
Door Prize Drawings - Let's Do Something a Little Different
Early last year, Smitty W5YME (sk) started our monthly prize drawing with a Baofeng dual-band HT. Each person attending a club meeting got one ticket as they came in, and additional tickets could be purchased for $1/ea to increase chances of winning. The monthly prize drawings have been a real big hit, and have contributed to the big boost in club member attendance and participation. Jim Collom N5YU continued the activity after Smitty's passing, and it has continued to grow with at least one mobile radio and one dual-band HT being awarded each month. Jim uses the money from ticket sales to purchase the prizes for the next month. Any money left over goes to expenses in supporting and maintaining the repeaters in the Freedom Link Group.
This month, the drawings will be for a Baofeng dual-band HT and a Kenwood TM-281a mobile radio.
2018 Officer Elections
We'll be having our annual elections to choose our club leadership for next year. Your current officers are:
President: Paul James KG5JTC
Vice-President: Roger Fouse KB5ROD
Secretary/Treasurer: Cletus Bauer N5XFB
Chaplain: Roger Fouse KB5ROD
Asst. Chaplain: Jeff Brown KA5IVU
Paul KG5JTC has served one term as president, and may be nominated two more times to serve consecutively. No other position has term limits.
The chaplain and assistant chaplain are elected every 3 years, and this year is the third final year, so we'll be electing our new chaplain and assistant chaplain to serve for the next three years.
---
Freedom Link Group Repeaters

"Linking Radio Communications Across The Four States Area"
http://www.freedom-link.org
Contact Jim Collom, N5YU
The Freedom Link Group on www.repeaterbook.com
View Freedom Link Group Repeaters on Google Maps

Freq.
ENC / DEC
Input
Call
Location
145.110
100.0 / *
144.510
WX5FL
Sulphur Springs
* The 145.110 repeater at Sulphur Springs does not transmit a tone, so make sure your radio is programmed for "ENC" only on that frequency.
145.170
100.0 / 100.0
144.570
WX5FL
Karnack (Pickin's Hill)
145.190
151.4 / 151.4
144.590
WX5FL
Bi-County ARES (Cass and Morris County)
The 145.190 repeater is a wide coverage area stand-alone repeater that is not linked with any other repeater.
145.310
100.0 / 100.0
88.5 / 100.0 or CSQ
131.8 / 100.0 or CSQ
144.710
WX5FL
Atlanta (Springdale)
Caver Ranch RCO
Downtown RCO
145.370
136.5 / 136.5
144.770
W5WVH
Tyler ** Not yet linked
145.390
100.0 / 100.0
144.790
WX5FL
Texarkana (Barkman Creek)
145.450
136.5 / 136.5
144.850
WX5FL
Kilgore
145.470
136.5 / 136.5
144.870
WX5FL
Avinger (Lake O' The Pines)
146.640
136.5 / 136.5
146.040
K5LET
Longview (East Mountain)
146.760
186.2 / 186.2
146.160
N5SHV
Shreveport
146.840
100.0 / 100.0
146.240
WX5FL
Marietta (Cussetta Mountain)
146.900
100.0 / 100.0
146.300
WX5FL
McLeod / Huffines
147.045
107.2 / 94.8 *
147.645
N5THS
Nashville (H.E.A.R. Club)
* For local traffic only, use 94.8 / 94.8.
147.100
136.5 / 136.5
147.700
WX5FL
Quitman
147.360
151.4 / 151.4
147.960
WX5FL
Pittsburg (Midway)
444.425
100.0 / 100.0
448.425
WX5FL
Texarkana (Barkman Creek)
---
Club Contacts:


Newsletter: newsletter@raccradio.org
Editor - Jerry A. Goodson, W5BFF
430-342-3376 - Cell

RACC Club: racc@raccradio.org
President - Paul James, KG5JTC
Vice President - Roger Fouse, KB5ROD
Treasurer - Cletus Bauer, N5XFB

RACC Website: www.raccradio.org

Join our group on facebook! Go to www.facebook.com/groups/RACCradio/

At any time you can unsubscribe from the RACC Newsletter.