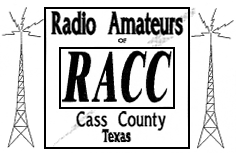 *** NEWSLETTER ***
September 2017
From the Editor: Jerry A. Goodson W5BFF

Greetings hams, prospective hams, and SHOULD BE (you know who you are!) hams.
The ham radio hobby sure is hopping in these parts! Shreveport is over, Mena is over, but ARCOS is still coming up, and I'm looking forward to piggin' out on catfish! The Texas QSO Party is next weekend (23 & 24 September), and the boys are planning on operating from our QTH this year.
Amidst all of the radioing, it's FOOTBALL SEASON! How 'bout them RABBITS! :)
This weekend is our regularly scheduled meeting, and we'll have the usual pancakes and sausage. We'll also have our regular drawings for the Yaesu FTM-3100 and Baofeng dual-band H/T. I look forward to hearing you on the RACC/Freedom Link Wide-Area Net tonight, and I'll see you on Saturday!
73,
-=Jerry A. Goodson=- W5BFF
P.S. All of us Goodsons have won the "big radio" drawing except Dylan "Bubba" N5APP. We've bought $20 worth of tickets each meeting, and split them evenly among ourselves until we won... now, Bubba will have a whole $20 worth of tickets to himself!
Upcoming Events:
Click [HERE] for all upcoming events on the RACC Website...
---
---
Cass and Morris County ARES Revived
Danny Richard KG5ESG was appointed the new ARES Emergency Coordinator for Cass and Morris County on June 21. Danny got to work on implementing a county emergency communications plan for the counties. Jim Collom N5YU donated a dedicated ARES repeater that provides wide coverage for both counties.
Looking for Members
Participation in ARES nets is open to all licensed amateur radio operators, regardless of membership status with any organization (club, ARES, or ARRL), with appropriate operating privileges. However, deployment to sensitive areas require additional training and credentialing.
If you are interested in rewarding participation in the public service aspect of amateur radio, please visit http://www.arrlntx.org/join-ares and download the application to join the Cass and Morris County ARES organization. Completed applications can be given to Danny Richard KG5ESG or Jerry Goodson W5BFF at a regular RACC Club Meeting.
Emergency Communications
The Freedom Link provides the best resource in the region for hazardous weather nets (SKYWARN). ARES goes beyond weather nets to provide communications support during events, emergencies, and disasters. ARES operators operate from their home stations, as well as hospitals, shelters, command posts, and other field assignments as necessary.
Public Service Honor Roll
ARES members who complete so much training and service are eligible for recognition by the ARRL in QST Magazine in their Public Service Honor Roll. Amateur Radio isn't just fun, but rewarding, as well.
JOIN TODAY!
---
Freedom Link Group Repeaters

"Linking Radio Communications Across The Four States Area"
http://www.freedom-link.org
Contact Jim Collom, N5YU
The Freedom Link Group on www.repeaterbook.com
View Freedom Link Group Repeaters on Google Maps

Freq.
ENC / DEC
Input
Call
Location
145.110
100.0 / *
144.510
WX5FL
Sulphur Springs
* The 145.110 repeater at Sulphur Springs does not transmit a tone, so make sure your radio is programmed for "ENC" only on that frequency.
145.170
100.0 / 100.0
144.570
WX5FL
Karnack (Pickin's Hill)
145.190
151.4 / 151.4
144.590
WX5FL
Bi-County ARES (Cass and Morris County)
The 145.190 repeater is a wide coverage area stand-alone repeater that is not linked with any other repeater.
145.310
100.0 / 100.0
88.5 / 100.0 or CSQ
131.8 / 100.0 or CSQ
144.710
WX5FL
Atlanta (Springdale)
Caver Ranch RCO
Downtown RCO
145.370
136.5 / 136.5
144.770
W5WVH
Tyler ** Not yet linked
145.390
100.0 / 100.0
144.790
WX5FL
Texarkana (Barkman Creek)
145.450
136.5 / 136.5
144.850
WX5FL
Kilgore
145.470
136.5 / 136.5
144.870
WX5FL
Avinger (Lake O' The Pines)
146.640
136.5 / 136.5
146.040
K5LET
Longview (East Mountain)
146.760
186.2 / 186.2
146.160
N5SHV
Shreveport
146.840
100.0 / 100.0
146.240
WX5FL
Marietta (Cussetta Mountain)
146.900
100.0 / 100.0
146.300
WX5FL
McLeod / Huffines
147.045
107.2 / 94.8 *
147.645
N5THS
Nashville (H.E.A.R. Club)
* For local traffic only, use 94.8 / 94.8.
147.100
136.5 / 136.5
147.700
WX5FL
Quitman
147.360
151.4 / 151.4
147.960
WX5FL
Pittsburg (Midway)
444.425
100.0 / 100.0
448.425
WX5FL
Texarkana (Barkman Creek)
---
Club Contacts:


Newsletter: newsletter@raccradio.org
Editor - Jerry A. Goodson, W5BFF
430-342-3376 - Cell

RACC Club: racc@raccradio.org
President - Paul James, KG5JTC
Vice President - Roger Fouse, KB5ROD
Treasurer - Cletus Bauer, N5XFB

RACC Website: www.raccradio.org

Join our group on facebook! Go to www.facebook.com/groups/RACCradio/

At any time you can unsubscribe from the RACC Newsletter.