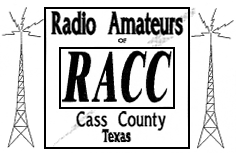 *** NEWSLETTER ***
August 2017
From the Editor: Jerry A. Goodson W5BFF

Greetings fellow amateurs and supporters!
This newsletter comes to you a little over a week late, and this month's meeting has already happened... and boy did it happen!
We were all saddened when President Paul James KG5JTC read the resignation letter submitted by Vice-President Sabrina Pollard W5DMI. In clubs such as ours, there are many who enjoy being a part, but few who are willing to lead. The leadership roles can be quite demanding to the point of overwhelming when "life happens." If you want an example, look at how late this newsletter is coming to you. By acclamation, the club chose Roger Fouse KB5ROD to finish the year out in Sabrina's position. Ladonna expressed she missed Larry's (W5ADI) presence in the kitchen, too. She says the workload difference was... noticeable.
September is a hopping month for amateur radio! We have the Mena Hamfest coming up, followed by our club meeting, then finishing up the month by eating catfish with the ARCOS club. There are other events coming up that I don't yet have on the website, but I'm working on it.
I look forward to hearing you on the nets!
73,
-=Jerry A. Goodson=- W5BFF
Upcoming Events:
Click [HERE] for all upcoming events on the RACC Website...
---
---
J-Pole Presentation
Ralf Vopel KF5WGB gave an outstanding presentation on the J-Pole Antenna! Many of us have bought, built, or used J-Poles, but Ralf gave us a real good explanation of HOW they work. The presentation quelled any and all concerns of transmitting on an antenna with a dead (electrical) short.
Kyle Wayne Goodson N5KWG Youngest Ham
Kyle Wayne Goodson N5KWG was presented with a remote-controlled airplane as the "Youngest Ham Boy" at the SARA Hamfest. The prize was presented by SARA Vice-President Bob Davis N5ZVW as Satellite Sam looks on. Prizes for the youngest licensed boy and girl, as well as a prize for the oldest ham were donated by Satellite Sam. Kyle Wayne was the youngest licensed ham at the hamfest at 10 years old. The youngest girl was 12, and the oldest ham was 78. The photo was taken by SARA President Andy Allen KF5ORM.
---
Freedom Link Group Repeaters

"Linking Radio Communications Across The Four States Area"
http://www.freedom-link.org
Contact Jim Collom, N5YU
The Freedom Link Group on www.repeaterbook.com
View Freedom Link Group Repeaters on Google Maps

Freq.
ENC / DEC
Input
Call
Location
145.110
100.0 / *
144.510
WX5FL
Sulphur Springs
* The 145.110 repeater at Sulphur Springs does not transmit a tone, so make sure your radio is programmed for "ENC" only on that frequency.
145.170
100.0 / 100.0
144.570
WX5FL
Karnack (Pickin's Hill)
145.190
151.4 / 151.4
144.590
WX5FL
Bi-County ARES (Cass and Morris County)
The 145.190 repeater is a wide coverage area stand-alone repeater that is not linked with any other repeater.
145.310
100.0 / 100.0
88.5 / 100.0 or CSQ
131.8 / 100.0 or CSQ
144.710
WX5FL
Atlanta (Springdale)
Caver Ranch RCO
Downtown RCO
145.370
136.5 / 136.5
144.770
W5WVH
Tyler ** Not yet linked
145.390
100.0 / 100.0
144.790
WX5FL
Texarkana (Barkman Creek)
145.450
136.5 / 136.5
144.850
WX5FL
Kilgore
145.470
136.5 / 136.5
144.870
WX5FL
Avinger (Lake O' The Pines)
146.640
136.5 / 136.5
146.040
K5LET
Longview (East Mountain)
146.760
186.2 / 186.2
146.160
N5SHV
Shreveport
146.840
100.0 / 100.0
146.240
WX5FL
Marietta (Cussetta Mountain)
146.900
100.0 / 100.0
146.300
WX5FL
McLeod / Huffines
147.045
107.2 / 94.8 *
147.645
N5THS
Nashville (H.E.A.R. Club)
* For local traffic only, use 94.8 / 94.8.
147.100
136.5 / 136.5
147.700
WX5FL
Quitman
147.360
151.4 / 151.4
147.960
WX5FL
Pittsburg (Midway)
444.425
100.0 / 100.0
448.425
WX5FL
Texarkana (Barkman Creek)
---
Club Contacts:


Newsletter: newsletter@raccradio.org
Editor - Jerry A. Goodson, W5BFF
430-342-3376 - Cell

RACC Club: racc@raccradio.org
President - Paul James, KG5JTC
Vice President - Roger Fouse, KB5ROD
Treasurer - Cletus Bauer, N5XFB

RACC Website: www.raccradio.org

Join our group on facebook! Go to www.facebook.com/groups/RACCradio/

At any time you can unsubscribe from the RACC Newsletter.