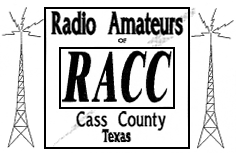 *** NEWSLETTER ***
July 2017
From the Editor: Jerry A. Goodson W5BFF

Greetings members, friends, and associates of the Radio Amateurs of Cass County. I hope each of you is doing well.
Whew! Field Day 2017 is over, and this year was a blast! The RACC joined up with the Four States Amateur Radio Club and the Atlanta Rabbits Amateur Radio Club to operate at Spring Lake Park in Texarkana. At one time, we had as many as seven stations operating, not including the GOTA (Get On The Air) station set up by the radio rabbits KA5AHS. There were a LOT of cool things that happened this year!
Got VEs?
VEs from the RACC and the 4SARC got together and held a VE Test Session.

L-R: Richard Arthur N5RGA, Clarence Shilling WB5BYV, Jonathan Rogers AF5JQ,
Dan Bradshaw KG5PNN, Jerry Goodson W5BFF, and Monroe Lee KK5NF
Congratulations to Dan Bradshaw KG5PNN who upgraded to General! Thanks to the VEs that administered the test. (Pictured above)
Got ARRL?
The American Radio Relay League was well-represented at the combined Field Day site this year.

L-R: NTX SM Jay Urish W5GM, AR SM Jay Ferguson N5LKE, Ronnie Rumsey KA5LEK,
Cass and Morris County EC Danny Richard KG5ESG, NTX ASM Jerry A. Goodson W5BFF, and
AR ACC Launa Bookwalter KB5LJO.
It's great when an ARRL section manager visits a Field Day site, but the Four States Amateur Radio Club and the Radio Amateurs of Cass County didn't get one section manager to visit, they got TWO! North Texas Section Manager Jay Urish W5GM announced he would be visiting us during Field Day. Arkansas Section Manager Jay Ferguson N5LKE surprised us. The weren't the only ARRL representatives, either! Jay N5LKE was accompanied by the Arkansas Section Affiliated Club Coordinator Launa Bookwalter KB5LJO, and Jay W5GM was accompanied by the newly appointed Morris and Cass County Emergency Coordinator Danny Richard KG5ESG. Jay had appointed me (Jerry W5BFF) as an Assistant Section Manager with the primary function to manage the new ARRL North Texas Section website (http://www.arrlntx.org) and official section social media accounts.
The newsletter broke!
Did you see in last month's newsletter than your ham radio license had been expired for more than 2 years? If you didn't, it's because you didn't pay attention... or even worse, didn't even read the newsletter! But I know many of you did, because I don't know how many phone calls, emails, text messages, facebook messages, or even face-to-face mentions I got on that very topic.
So, here's what happened. I wrote a script on this website that pulls your raw data from http://callook.info. It's a wonderful (and free) service provided by Josh Dick W1JDD. When my program was using his program, it was breaking because I never received an error code from his program, because up to that point, his program had always worked for me. Well, as luck would have it, I sent out the newsletter on the same day his program had gotten hung up during a daily FCC update (which usually only takes his program just a few seconds to complete). I contacted Josh to let him know, but the damage had already been done... the newsletter had gone out with a bunch of garble and that dreadful message about how your license had been expired for over two years, and you were going to have to take the test to get your license back. (Some of the calls from new hams that hadn't even been licensed for two years were rather humorous. I won't mention any names, but you know who you are!)
The good news is, although Josh's site broke and ruined what would have otherwise been a decent newsletter for the month, I now have the error code, and can write an error handler if Josh's site should break again. Sorry for any angst or inconvenience.
The Radio Rabbits Join ARES
Morris and Cass County have a new Emergency Coordinator. Danny Richard KG5ESG was appointed in mid-June by the new ARRL North Texas Section Manager Jay Urish W5GM. Danny called me and told me he needed communications support at the Daingerfield State Park for a 5k race. He only gave me four days notice, but we made it happen. I posted a nice little write-up on the radio rabbits website at http://www.ka5ahs.org/Radio-Rabbits-Join-ARES-and-Provide-Communications-Support
I'll shut up now.
The good news is, a lot has been happening in the amateur radio world. The bad news is, it makes for a long newsletter. So with that, I'll just let you know that Jim Collom N5YU will have a Yaesu FTM-3100r and at least 2 Baofeng HTs to give away at the club meeting this weekend.
I look forward to sharing some sausage and eggs with you this weekend!
73,
-=Jerry A. Goodson=- W5BFF
Upcoming Events:
Click [HERE] for all upcoming events on the RACC Website...
---
---
FROM HIGH ON THE MOUNTAIN - W5YME
Keeping Smitty's dream alive.
Pop Hunt KF5WSU, Sally Hunt KF5WSW, John Spann KB5JDT did a little yard work up at the 84 Repeater site on Cusseta Mountain to help Jim Collom N5YU. Pop and Sally did the weedeating, and John cut down the forest and heavy brush. Sally sprayed Roundup and ant poison, and Pop oiled the gate lock.
Afterwards, they drank ice cold tea at the Spann's home and played with the new baby goats for a while.
"If you can help out with yard work at a tower near you, Jim would certainly appreciate. What we did Thursday took the three of us less than 2 hours. Keeping the site neat, clean is important for Jim so that he can more quickly access the tower and equipment to make upgrades and repairs w/o having to wade through high grass, fleas, ticks, spiders, snakes, etc.," Pop said.
Larry and Sabrina Pollard (W5ADI and W5DMI) take care of the Midway site, and Richard Arthur N5RGA takes care of the Barkman Creek site. Special thanks to all the volunteers that keep these sites up!
New and Improved ARES for Morris County and Cass County
Danny Richard KG5ESG was appointed as the new Emergency Coordinator (EC) for Morris County and Cass County. Morris County did not have any ARES program prior to the appointment, and he replaced Jason Patterson KD5RQB in Cass County. Richard kept Patterson on as the assistant EC.
The Freedom Link Group provided the "Bi-County" ARES program with a wide coverage standalone repeater, and the frequency information can be found in the frequency list below. Net times will be announced soon, along with other training activities.
Richard is planning to build up the ARES program with all interested amateur radio operators in the two counties, regardless of ARRL or club membership or affiliation.
---
Freedom Link Group Repeaters

"Linking Radio Communications Across The Four States Area"
http://www.freedom-link.org
Contact Jim Collom, N5YU
The Freedom Link Group on www.repeaterbook.com
View Freedom Link Group Repeaters on Google Maps

Freq.
ENC / DEC
Input
Call
Location
145.110
100.0 / *
144.510
WX5FL
Sulphur Springs
* The 145.110 repeater at Sulphur Springs does not transmit a tone, so make sure your radio is programmed for "ENC" only on that frequency.
145.170
100.0 / 100.0
144.570
WX5FL
Karnack (Pickin's Hill)
145.190
151.4 / 151.4
144.590
WX5FL
Bi-County ARES (Cass and Morris County)
The 145.190 repeater is a wide coverage area stand-alone repeater that is not linked with any other repeater.
145.310
100.0 / 100.0
88.5 / 100.0 or CSQ
131.8 / 100.0 or CSQ
144.710
WX5FL
Atlanta (Springdale)
Caver Ranch RCO
Downtown RCO
145.370
136.5 / 136.5
144.770
W5WVH
Tyler ** Not yet linked
145.390
100.0 / 100.0
144.790
WX5FL
Texarkana (Barkman Creek)
145.450
136.5 / 136.5
144.850
WX5FL
Kilgore
145.470
136.5 / 136.5
144.870
WX5FL
Avinger (Lake O' The Pines)
146.640
136.5 / 136.5
146.040
K5LET
Longview (East Mountain)
146.760
186.2 / 186.2
146.160
N5SHV
Shreveport
146.840
100.0 / 100.0
146.240
WX5FL
Marietta (Cussetta Mountain)
146.900
100.0 / 100.0
146.300
WX5FL
McLeod / Huffines
147.045
107.2 / 94.8 *
147.645
N5THS
Nashville (H.E.A.R. Club)
* For local traffic only, use 94.8 / 94.8.
147.100
136.5 / 136.5
147.700
WX5FL
Quitman
147.360
151.4 / 151.4
147.960
WX5FL
Pittsburg (Midway)
444.425
100.0 / 100.0
448.425
WX5FL
Texarkana (Barkman Creek)
---
Club Contacts:


Newsletter: newsletter@raccradio.org
Editor - Jerry A. Goodson, W5BFF
430-342-3376 - Cell

RACC Club: racc@raccradio.org
President - Paul James, KG5JTC
Vice President - Roger Fouse, KB5ROD
Treasurer - Cletus Bauer, N5XFB

RACC Website: www.raccradio.org

Join our group on facebook! Go to www.facebook.com/groups/RACCradio/

At any time you can unsubscribe from the RACC Newsletter.