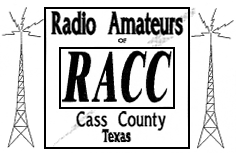 *** NEWSLETTER ***
June 2017
From the Editor: Jerry A. Goodson W5BFF

Greetings fellow hams and friends,
HamCom was this past weekend, and I ended up not going at all. I was loading up to go on Friday afternoon when I got an email saying the Wouff Hong Ceremony had been cancelled due to lack of interest.
Why the lack of interest? From my getting around on the HF bands, there seems to have been an influx of new hams that have never been elmered by an old man wielding a Wouff Hong. That begs the question, "What is a Wouff Hong?" You can read all about it here: http://www.amfone.net/WouffHong/wouff.htm
Look out below!
All of the latest, greatest, and most current up-to-date Freedom Link Group Repeaters are now included at the bottom of each RACC newsletter. Occasionally, a PL tone or frequency or location may be added or changed. If you ever wonder, just check the latest RACC newsletter OR the FLG or RACC websites. All of the information will be current and up-to-date.
Also, the 2017 Field Day announcement is posted below. We're going to Spring Lake Park this year to join up with the Four States Amateur Radio Group. It should be a real blast!
Monthly Drawings
Once again, Jim N5YU will be giving away a Yaesu FTM-3100r and a Baofeng dual-band HT in the monthly drawing. Everyone gets a free ticket when they walk in the door, and additional tickets can be purchased for $1 each.
Come have some sausage and pancakes with us this Saturday, and I look forward to hearing you on the net, tonight!
73,
-=Jerry=-
Upcoming Events:
Click [HERE] for all upcoming events on the RACC Website...
---
---
2017 Field Day
This year the Radio Amateurs of Cass County will be joining the Four States Amateur Radio Club at Spring Lake Park.
*** SPECIAL ANNOUNCEMENT! ***
The new ARRL North Texas Section Manager, Jay Urish W5GM, has confirmed he will be visiting the Field Day site in Texarkana.
"I am pleased the two clubs will be operating in one location," Urish said. "I try to visit as many ARRL-affiliated clubs during Field Day weekend all over the section, and combined club locations make that easier, particularly in remote areas of the section like Northeast Texas."
ARRL North Texas Section Manager Jay Urish W5GM at the
NCTC Luncheon during HamCom 2017.
DIRECTIONS:
There are 2 easy ways to get there.
1. Take I-30 / Summer Hill Road / S. Park Road
2. Take I-30 / Summer Hill Frontage Road / Mall Drive
---
Freedom Link Group Repeaters

"Linking Radio Communications Across The Four States Area"
http://www.freedom-link.org
Contact Jim Collom, N5YU
The Freedom Link Group on www.repeaterbook.com
View Freedom Link Group Repeaters on Google Maps

Freq.
ENC / DEC
Input
Call
Location
145.110
100.0 / *
144.510
WX5FL
Sulphur Springs
* The 145.110 repeater at Sulphur Springs does not transmit a tone, so make sure your radio is programmed for "ENC" only on that frequency.
145.170
100.0 / 100.0
144.570
WX5FL
Karnack (Pickin's Hill)
145.190
151.4 / 151.4
144.590
WX5FL
Bi-County ARES (Cass and Morris County)
The 145.190 repeater is a wide coverage area stand-alone repeater that is not linked with any other repeater.
145.310
100.0 / 100.0
88.5 / 100.0 or CSQ
131.8 / 100.0 or CSQ
144.710
WX5FL
Atlanta (Springdale)
Caver Ranch RCO
Downtown RCO
145.370
136.5 / 136.5
144.770
W5WVH
Tyler ** Not yet linked
145.390
100.0 / 100.0
144.790
WX5FL
Texarkana (Barkman Creek)
145.450
136.5 / 136.5
144.850
WX5FL
Kilgore
145.470
136.5 / 136.5
144.870
WX5FL
Avinger (Lake O' The Pines)
146.640
136.5 / 136.5
146.040
K5LET
Longview (East Mountain)
146.760
186.2 / 186.2
146.160
N5SHV
Shreveport
146.840
100.0 / 100.0
146.240
WX5FL
Marietta (Cussetta Mountain)
146.900
100.0 / 100.0
146.300
WX5FL
McLeod / Huffines
147.045
107.2 / 94.8 *
147.645
N5THS
Nashville (H.E.A.R. Club)
* For local traffic only, use 94.8 / 94.8.
147.100
136.5 / 136.5
147.700
WX5FL
Quitman
147.360
151.4 / 151.4
147.960
WX5FL
Pittsburg (Midway)
444.425
100.0 / 100.0
448.425
WX5FL
Texarkana (Barkman Creek)
---
Club Contacts:


Newsletter: newsletter@raccradio.org
Editor - Jerry A. Goodson, W5BFF
430-342-3376 - Cell

RACC Club: racc@raccradio.org
President - Paul James, KG5JTC
Vice President - Roger Fouse, KB5ROD
Treasurer - Cletus Bauer, N5XFB

RACC Website: www.raccradio.org

Join our group on facebook! Go to www.facebook.com/groups/RACCradio/

At any time you can unsubscribe from the RACC Newsletter.