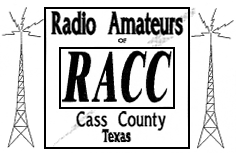 *** NEWSLETTER ***
May 2017
From the Editor: Jerry A. Goodson W5BFF

Greetings fellow amateur radio operators!
Did you read the April newsletter? No? Oh, yeah! There wasn't one! I rebuilt the server stacks for our mass email system so it will play nice with you email server. These newsletters are blasted out by servers that don't belong to this domain (raccradio.org), so I have to create special records that announces to every server that... well, instead of giving you all the sordid details, I'll just say I think I have it all running like a very efficient HF station, now.
Our cook is recovering nicely from her surgery, however, Ladonna KG5GMC won't be running at full steam this weekend. She says she's not too terribly worried about our breakfast situation considering the wonderful help she's been getting lately.
QST Magazine hit my mailbox, today. The cover of the magazine was a glaring reminder that time has gone by quite quickly for the club, as there are only two meetings left before FIELD DAY! You can certainly expect that to be a topic of discussion this weekend.
Do you get the Four States Amateur Radio Club newsletter? Arthur Christy KF5VWN sends one out every Thursday, and it's free to sign up for the newsletter even if you're not a member. You can sign up by going to http://www.4sarc.org/?page_id=36 and scrolling all the way to the bottom.
ARRL North Texas Section Update: I hate to say anything negative about the hobby, as the VERY FIRST SECTION of Part 97 of the FCC rules and regulations says the purpose of the hobby is to promote international good will. That being said, as we all know from our sour experience with the previous ARRL NTX section administration, there are, in fact, people in the hobby that are poisonous to the very international good will we're supposed to promote.
This past weekend, I attended a helicopter landing zone class at the Atlanta Fire Department, as ordered by the fire chief where I volunteer. Miller County ARES had several operators there, and they have quite an impressive setup. I contacted the new section manager, and inquired as to why Cass County amateur radio operators were continued to be alienated by the Cass County ARES organization, especially since the RACC is an ARRL affiliated club.
Jay Urish W5GM explained the transition from the previous administration has not been smooth, at all. He is working with the Section Emergency Coordinator to get the new Cass County Emergency Coordinator appointed and up to speed, along with trying to get control of section records, web domain, social media, etc. Cass County is one of a handful of counties in the section that has issues with ARES leadership, and he is actively working to correct those issues.
Steven Smith Memorial Meeting: I would like to thank everyone who attended the Steven Smith W5YME (sk) Memorial Meeting in March. We had a record turnout, and I couldn't tell through my own tearing up of there was a dry eye in the room. I know that Smitty, Bob Jones K5HCM (sk) and others we've lost over the years were smiling down on us that day.
I posted the tribute video on YouTube if you missed the meeting, or care to revisit it at: https://www.youtube.com/watch?v=NtFzHtW53Ww
There were several prizes awarded in that month's drawings, but most significant was the Antennalyzer donated by David Glenn KF5VAE, that even included a formed Pelican Case. The Antennalyzer was won by Jimmy Gibson WB5EYF, who promptly donated it to Jim Collom N5YU to use for the Freedom Link System.
Prize Drawings: This month won't be without the prizes, either! Jim N5YU will have two Yaesu FTM-3100r 2-meter mobile radios!
I won't be with y'all on the net, tonight. I'm headed to Dallas to take care of Ladonna's dad since she's still recovering from her surgery. Maybe she or one of the boys will give me a courtesy check-in. I look forward to seeing y'all this Saturday for pancakes and sausage!
73,
-=Jerry A. Goodson=- W5BFF
Upcoming Events:
Click [HERE] for all upcoming events on the RACC Website...
---
---
---
Freedom Link Group Repeaters

"Linking Radio Communications Across The Four States Area"
http://www.freedom-link.org
Contact Jim Collom, N5YU
The Freedom Link Group on www.repeaterbook.com
View Freedom Link Group Repeaters on Google Maps

Freq.
ENC / DEC
Input
Call
Location
145.110
100.0 / *
144.510
WX5FL
Sulphur Springs
* The 145.110 repeater at Sulphur Springs does not transmit a tone, so make sure your radio is programmed for "ENC" only on that frequency.
145.170
100.0 / 100.0
144.570
WX5FL
Karnack (Pickin's Hill)
145.190
151.4 / 151.4
144.590
WX5FL
Bi-County ARES (Cass and Morris County)
The 145.190 repeater is a wide coverage area stand-alone repeater that is not linked with any other repeater.
145.310
100.0 / 100.0
88.5 / 100.0 or CSQ
131.8 / 100.0 or CSQ
144.710
WX5FL
Atlanta (Springdale)
Caver Ranch RCO
Downtown RCO
145.370
136.5 / 136.5
144.770
W5WVH
Tyler ** Not yet linked
145.390
100.0 / 100.0
144.790
WX5FL
Texarkana (Barkman Creek)
145.450
136.5 / 136.5
144.850
WX5FL
Kilgore
145.470
136.5 / 136.5
144.870
WX5FL
Avinger (Lake O' The Pines)
146.640
136.5 / 136.5
146.040
K5LET
Longview (East Mountain)
146.760
186.2 / 186.2
146.160
N5SHV
Shreveport
146.840
100.0 / 100.0
146.240
WX5FL
Marietta (Cussetta Mountain)
146.900
100.0 / 100.0
146.300
WX5FL
McLeod / Huffines
147.045
107.2 / 94.8 *
147.645
N5THS
Nashville (H.E.A.R. Club)
* For local traffic only, use 94.8 / 94.8.
147.100
136.5 / 136.5
147.700
WX5FL
Quitman
147.360
151.4 / 151.4
147.960
WX5FL
Pittsburg (Midway)
444.425
100.0 / 100.0
448.425
WX5FL
Texarkana (Barkman Creek)
---
Club Contacts:


Newsletter: newsletter@raccradio.org
Editor - Jerry A. Goodson, W5BFF
430-342-3376 - Cell

RACC Club: racc@raccradio.org
President - Paul James, KG5JTC
Vice President - Roger Fouse, KB5ROD
Treasurer - Cletus Bauer, N5XFB

RACC Website: www.raccradio.org

Join our group on facebook! Go to www.facebook.com/groups/RACCradio/

At any time you can unsubscribe from the RACC Newsletter.