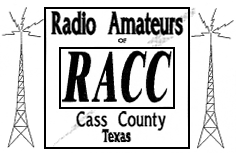 *** NEWSLETTER ***
March 2017
From the Editor: Jerry A. Goodson W5BFF

Greetings fellow Hams,
I'll keep this short and sweet. We're expecting a very large turnout at the meeting this weekend, so it may take a while to get everyone fed. Ladonna KG5GMC is hoping for a little extra help in the kitchen. She'll pre-cut the sausage on Friday night, so it'll just be a matter of cooking the sausage and pancakes.
She sends her gratitude to Bobby WB5OSD and Larry W5ADI for helping the past few meetings. She says it really makes a difference!
I'm working furiously on the slideshow for the special Smitty Tribute Presentation this weekend... if you have anything you would like included, please send it to me at this email address.
Look forward to hearing you on the net and seeing you this weekend!
-=Jerry=- W5BFF
Upcoming Events:
Click [HERE] for all upcoming events on the RACC Website...
---
---
The Steven "Smitty" Smith W5YME Memorial Month Meeting
In Memory of Steven F. Smith W5YME
March 10, 1956 - March 28, 2016
The meeting this month will be a Memorial and Tribute to our friend, Steven Smith W5YME (sk).

Like always, we'll have our sausage and pancake breakfast at 8:30am and start our meeting at 9am at the Atlanta Airport Lounge. We're expecting a larger-than-normal turnout, so we're encouraging everyone to wear their call sign and name badges. Jim N5YU will have sticker name badges for those that don't have call sign badges.

After the regular business, we will relocate the meeting to Steve Davis' hangar where a special tribute slide show and program honoring Smitty's memory will be presented. Everyone is encouraged to bring a folding chair.

NOTE: If you have any photos or videos of Smitty you would like included in the slideshow, please send them to newsletter@raccradio.org

DOUBLE DOOR PRIZES!!!

This month, Jim N5YU will have TWO Yaesu FTM-3100s and TWO Baofeng Dual-Band HTs and MORE! Everyone will receive one free ticket upon arrival, but additional tickets may be purchased for $1/ea.
From the Vice-President: Sabrina Pollard W5DMI

I don't make friends easily. At least I didn't, until I became licensed to operate ham radio. Now, I count many wonderful people as my friends although there are a lot of them I've never met in person.
One of those very special people whom I was never able to meet in person was our own Steven, W5YME. But I felt like I knew him. In fact, Steven was one of those rare individuals who could make everyone whose life he touched, say to himself, "Steven and I are best friends." That's how he made me feel, and I've heard many folks say the same thing.
Steven always had a smile in his voice, making us feel that he was so glad to be talking with us personally on the radio. One of my favorite QSOs was one night when a ham operator down in my neck of the woods, around Hawkins, put out his call on the Freedom Link and was answered by W5YME. He and Steven had never met before, and they hadn't even talked together before on the radio. But after just a few minutes, the two of them were chatting like old friends and were swapping stories about folks they knew mutually. It was a warm, wonderful experience for me, and it took place in mid-March of last year. I wanted to get up to Atlanta, to meet with the radio club where Steven was President.
But I didn't get up there that month and just a week after that March meeting, our dear friend was gone.
I keep his family with me in my heart and I want to remember to smile when I press that transmit key. People can hear it in your voice when you smile. May the Lord bless all of Steven's family and friends.
---
Freedom Link Group Repeaters

"Linking Radio Communications Across The Four States Area"
http://www.freedom-link.org
Contact Jim Collom, N5YU
The Freedom Link Group on www.repeaterbook.com
View Freedom Link Group Repeaters on Google Maps

Freq.
ENC / DEC
Input
Call
Location
145.110
100.0 / *
144.510
WX5FL
Sulphur Springs
* The 145.110 repeater at Sulphur Springs does not transmit a tone, so make sure your radio is programmed for "ENC" only on that frequency.
145.170
100.0 / 100.0
144.570
WX5FL
Karnack (Pickin's Hill)
145.190
151.4 / 151.4
144.590
WX5FL
Bi-County ARES (Cass and Morris County)
The 145.190 repeater is a wide coverage area stand-alone repeater that is not linked with any other repeater.
145.310
100.0 / 100.0
88.5 / 100.0 or CSQ
131.8 / 100.0 or CSQ
144.710
WX5FL
Atlanta (Springdale)
Caver Ranch RCO
Downtown RCO
145.370
136.5 / 136.5
144.770
W5WVH
Tyler ** Not yet linked
145.390
100.0 / 100.0
144.790
WX5FL
Texarkana (Barkman Creek)
145.450
136.5 / 136.5
144.850
WX5FL
Kilgore
145.470
136.5 / 136.5
144.870
WX5FL
Avinger (Lake O' The Pines)
146.640
136.5 / 136.5
146.040
K5LET
Longview (East Mountain)
146.760
186.2 / 186.2
146.160
N5SHV
Shreveport
146.840
100.0 / 100.0
146.240
WX5FL
Marietta (Cussetta Mountain)
146.900
100.0 / 100.0
146.300
WX5FL
McLeod / Huffines
147.045
107.2 / 94.8 *
147.645
N5THS
Nashville (H.E.A.R. Club)
* For local traffic only, use 94.8 / 94.8.
147.100
136.5 / 136.5
147.700
WX5FL
Quitman
147.360
151.4 / 151.4
147.960
WX5FL
Pittsburg (Midway)
444.425
100.0 / 100.0
448.425
WX5FL
Texarkana (Barkman Creek)
---
Club Contacts:


Newsletter: newsletter@raccradio.org
Editor - Jerry A. Goodson, W5BFF
430-342-3376 - Cell

RACC Club: racc@raccradio.org
President - Paul James, KG5JTC
Vice President - Roger Fouse, KB5ROD
Treasurer - Cletus Bauer, N5XFB

RACC Website: www.raccradio.org

Join our group on facebook! Go to www.facebook.com/groups/RACCradio/

At any time you can unsubscribe from the RACC Newsletter.