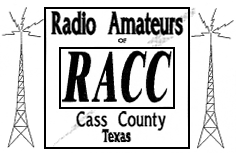 *** NEWSLETTER ***
November 2016
From the Editor: Jerry A. Goodson W5BFF

Greetings fellow amateurs and supporters!
It's hard to figure out where to begin with so much happening with the club... which is a good thing! I'll start off with an article right off the RACC website.
KG5POL Interim AG
Remember seeing Ken Everage KG5POL in the October 2016 RACC Newsletter? He passed his technician test at the RACC VE Test Session after the club meeting last month.

L to R: Buddy Cunningham N5LUC, Ken Everage KG5POL,
Jerry A. Goodson W5BFF, and Ralf Vopel KF5WGB
It didn't take him long to study up! Today, just a month later, he passed the Element 3 exam and upgraded to General Class. Ken is already looking forward to purchasing an HF transceiver.
Steven Smith Honored as Distinguished Alumni
Steven "Smitty" Smith W5YME (sk) was posthumously honored as a Distinguished Alumni by the Atlanta Education Foundation at a reception at the Atlanta ISD Administration Building and a ceremony prior to the Atlanta Rabbits vs. Pleasant Grove Hawks football game on October 14, 2016. All of the information in their write-up is listed on his tribute page, so I didn't add it to avoid redundancy.
Monthly Door Prize Drawing
Earlier this year, Smitty started our monthly prize drawing with a Baofeng dual-band HT. Each person attending a club meeting got one ticket as they came in, and additional tickets could be purchased for $1/ea to increase chances of winning. The monthly prize drawings have been a real big hit, and have contributed to the big boost in club member attendance and participation. Jim Collom N5YU continued the activity after Smitty's passing, and it has continued to grow with at least one mobile radio and one dual-band HT being awarded each month. Jim uses the money from ticket sales to purchase the prizes for the next month. Any money left over goes to expenses in supporting and maintaining the repeaters in the Freedom Link Group. This month, the drawings will be for a Baofeng dual-band HT and a Yaesu FTM-3100R mobile radio.
I won one of these mobile radios in the drawing a few months ago, and it has been a real solid performer! Bring some extra ca$h this Saturday, and maybe you can be the big winner!
I would like to congratulate last month's winners. There were three door prizes. The first was an LED Driver Kit won by Pete Wright KB5PWD. The second was a Baofeng dual-band HT won by new ham and new club member Dan Bradshaw KG5PNN. The big prize was the Yaesu FTM-3100R,
and the winner was...
NOT KYLE WAYNE GOODSON N5KWG!
If you missed the meeting last month, you missed a good laugh! Mr. Carroll KB5TCH drew the tickets, and when he called the numbers, Kyle Wayne read his ticket wrong. He thought he won that radio! He jumped up and ran and took it from Jim. He got back to his seat with his loot when the real winner, Floyd McCall KD5NRI, piped up that he had the winning ticket. The humor in this "easy come, easy go" situation definitely overshadowed his disappointment. At the tender young age of 9, I asked Kyle Wayne how he felt about it, and he just shrugged and said, "Maybe I'll win it next month." Win or lose, the door prize drawings are fun.
Newsletter Updates:
I want to give you the best newsletter possible, but I don't want to work so hard doing it. I haven't written software in several years, and I sure haven't scripted in this language, but I've made a lot of progress in some re-design of the script that powers the RACC website. What that has done was allowed me to deliver fresh, interesting, and useful content to you without having to do a lot of manual cutting and pasting. I can insert articles right from the website into this newsletter. The Upcoming Events section is now completely automated! To top it all off, I wrote a script that will check the status of your amateur radio license, club membership, and ARRL membership. It's personalized to you in your own email, and you'll see it just below my letter.
By this point, the newsletter is already getting quite lengthy, so I'm going to cut my comments off here. I'm not trying to compete with the Dallas Morning News.
I look forward to hearing you on the net tonight at 8pm, and I hope to see you Saturday!
73,
-=Jerry A. Goodson=- W5BFF
Upcoming Events:
Click [HERE] for all upcoming events on the RACC Website...
---
---
Repeater Update: Jim Collom N5YU

As of this writing the Midway, Kilgore and Sulphur Springs repeaters are off line. This is due to various reasons.
Both Kilgore and Sulphur Springs are due to noise that keeps getting into the receivers. Jim Rogers N5VGQ is in the process of totally replacing the Kilgore machine. However this has been delayed due to a very tragic personal family loss of his daughter. Prayers be with Rogers family !
Sulphur Springs looks as if we are going to have to make some major changes to have a functional 2 meter machine there. I will cover in detail more as we move forward. Just because our 145.11 machine is off line has no effect on "Wide Area Wednesdays" and " Spread Out Sundays". So everyone can still enjoy making new friends to our West.
As most know we had a receiver failure at Sulphur Springs on our UHF Backbone from Cussetta Mountain to Sulphur Springs a couple of weeks ago. JoAnn and I made a trip to Sulphur Springs on November 8th where I changed out both the receiver and transmitter too. I changed the transmitter to a 10w driver and 60w PA. This was to clean up the signals coming from SS to Cussetta. It's all functioning better now.
Midway took a lightning strike a few weeks ago. I have sent the controller for repair at Link Communications and should have it back anytime now. It appears that we were actually fairly lucky that it didn't take out other equipment too.
Shreveport 146.76 has been loosing receiver sensitivity for a while now. John Beck KB5LE and crew at ARCOS are in the process of this repair and most likely by the time you're reading this that repair will have taken place.
This sounds bad but it's really not. Besides changing the time in the controllers for changing off daylight savings time and a trip to Cussetta for a controller glitch all the other locations are functioning A-OKAY!
On a personal note: It's sure good hearing the uses of the system, especially knowing that everyone is enjoying that use. I also know another fellow that's smiling above hearing the same.
Jim Collom
N5YU
FCC Vanity Call Sign Petition Too Restrictive
by Jerry A. Goodson W5BFF
Christopher LaRue W4ADL of North Las Vegas, Nevada, petitioned the commission on October 4, 2016, that any licensee obtaining a vanity call sign be required to keep it for the full license term. Comments on the Petition RM-11775 will be accepted by the FCC until November 25, 2016 through the Electronic Comment Filing System (ECFS). To submit an express comment at the link provided, enter RM-11775 in the "Proceeding(s)" block.
Last year, the FCC eliminated filing fees for vanity call sign applications. Since then, a few devious hams have capitalized on the ease and cost-free application system to apply for multiple coveted 1x2 and 2x1 vanity call signs. This effectively keeps the calls unavailable for the statutory two years. Their motivation is to keep new "code-less" Extra Class hams from obtaining the call signs as they come available.
In the most extreme case I've heard, LaRue stated in his petition, "I even saw an older operator that said he does it all the time and has not even owned a radio in over six years. When I looked him up he has had sixteen different ones in eighteen months."
LaRue is correct that there is a problem, but his proposal to bind an amateur radio operator to a vanity call sign for the duration of a 10-year license is a bit extreme. I submitted a less-restrictive proposal to the commission that would still discourage the practice:
Thank you for your submission to the FCC Electronic Comment Filing System (ECFS).
Please Note that your filing will not be available for searching until it has been reviewed and posted by the FCC.
Confirmation Number: 201611131946921772

Proceeding(s): RM-11775 : To amend the amateur radio rules to prohibit frequent changing of vanity call signs

Filer(s): Jerry A. Goodson W5BFF

Brief Comments: I would like to comment on the proposed rule making RM-11775 submitted by amateur radio licensee Christopher J LaRue W4ADL, dated 4 October 2016.

I recommend the following rule changes:

A licensee who is granted a vanity call sign is not eligible to request a new vanity call sign sign until such time as the previous call sign is released to the available call signs pool plus one month.

Exception: A one-time exception would apply to an initial grant of a vanity call sign to an amateur who was granted a vanity call sign that has not yet been released to the available calls pool and who was not eligible to receive the call sign under the previous license class.

Exception: A one-time exception would apply to the granting of a vanity call sign to an amateur who was granted a vanity call sign that has not yet been released to the available calls pool and who is applying for the call sign of a deceased family member.

Address: 2674 CR 3214 , Atlanta, TX 75551
The FCC will not make a released call sign available until two years have lapsed from the call sign release date. The only two exceptions to this rule are applying for the call sign of a close deceased relative, or applying for a call sign that was previously held by the licensee. The reason? The FCC wanted to implement safeguards against vanity call sign mills. Their concern was people would get cool call signs, then try to sell them. For example, let's say I wanted N5JG (my initials). A quick lookup on QRZ.com reveals that call sign currently belongs to Jesse Garnett. I can't contact Jesse Garnett and offer to purchase the call sign from him if he'd just release it and get a new one. The FCC is very firm on this, as I recently applied for a 1x2 call sign, and my son wanted my current call sign. The options we were given was I could die, or he would have to wait two years to get it.
---
Freedom Link Group Repeaters

"Linking Radio Communications Across The Four States Area"
http://www.freedom-link.org
Contact Jim Collom, N5YU
The Freedom Link Group on www.repeaterbook.com
View Freedom Link Group Repeaters on Google Maps

Freq.
ENC / DEC
Input
Call
Location
145.110
100.0 / *
144.510
WX5FL
Sulphur Springs
* The 145.110 repeater at Sulphur Springs does not transmit a tone, so make sure your radio is programmed for "ENC" only on that frequency.
145.170
100.0 / 100.0
144.570
WX5FL
Karnack (Pickin's Hill)
145.190
151.4 / 151.4
144.590
WX5FL
Bi-County ARES (Cass and Morris County)
The 145.190 repeater is a wide coverage area stand-alone repeater that is not linked with any other repeater.
145.310
100.0 / 100.0
88.5 / 100.0 or CSQ
131.8 / 100.0 or CSQ
144.710
WX5FL
Atlanta (Springdale)
Caver Ranch RCO
Downtown RCO
145.370
136.5 / 136.5
144.770
W5WVH
Tyler ** Not yet linked
145.390
100.0 / 100.0
144.790
WX5FL
Texarkana (Barkman Creek)
145.450
136.5 / 136.5
144.850
WX5FL
Kilgore
145.470
136.5 / 136.5
144.870
WX5FL
Avinger (Lake O' The Pines)
146.640
136.5 / 136.5
146.040
K5LET
Longview (East Mountain)
146.760
186.2 / 186.2
146.160
N5SHV
Shreveport
146.840
100.0 / 100.0
146.240
WX5FL
Marietta (Cussetta Mountain)
146.900
100.0 / 100.0
146.300
WX5FL
McLeod / Huffines
147.045
107.2 / 94.8 *
147.645
N5THS
Nashville (H.E.A.R. Club)
* For local traffic only, use 94.8 / 94.8.
147.100
136.5 / 136.5
147.700
WX5FL
Quitman
147.360
151.4 / 151.4
147.960
WX5FL
Pittsburg (Midway)
444.425
100.0 / 100.0
448.425
WX5FL
Texarkana (Barkman Creek)
---
Club Contacts:


Newsletter: newsletter@raccradio.org
Editor - Jerry A. Goodson, W5BFF
430-342-3376 - Cell

RACC Club: racc@raccradio.org
President - Paul James, KG5JTC
Vice President - Roger Fouse, KB5ROD
Treasurer - Cletus Bauer, N5XFB

RACC Website: www.raccradio.org

Join our group on facebook! Go to www.facebook.com/groups/RACCradio/

At any time you can unsubscribe from the RACC Newsletter.