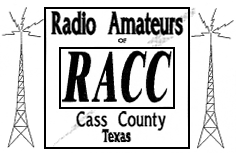 *** NEWSLETTER ***
October 2016
From the Editor: Jerry A. Goodson W5BFF
Greetings fellow amateurs and supporters!
Have trouble remembering names? Well, we're happy to contribute to your troubles! The RACC welcomes three new hams! Ken Everage KG5POL, Roger Strong KG5PNM, and Dan Bradshaw KG5PNN passed the Technician Exam during the VE Test Session following the September club meeting!


L to R: Ken Everage KG5POL, Roger Strong KG5PNM, Dan Bradshaw KG5PNN, Jerry A. Goodson W5BFF,
Roger Fouse KB5ROD, Ralf Vopel KF5WGB, and Buddy Cunningham N5LUC
Dan KG5PNN called me because he had a relative, Dean Bradshaw KG5POA, had tested with the Longview club on the same day. After each VE test session with our club, I watch the FCC website pretty close for the new call signs issued. Dan got his call sign the day before Dean got his, and they were ready to go on the Freedom Link when they both got 'em! Congratulations to all the new hams that's joining us on the repeaters!
Long Lost QSO
Roger Fouse KB5ROD received a QSL card in the mail for a contact made with K5HCM. The club recently participated in Field Day and the Texas QSO Party, and it's not uncommon for the club to receive the occasional QSL card for one of the contest events club members work.
The interesting thing about this QSO was that it happened on July 28, 2003! Before the club adopted the call sign K5HCM in May of 2013, it was the call sign of the club's founder, Bob Jones (sk) who passed away in 2008. There's a write-up on the QSO on the club website. [Read More]
Long Lost Band Director
This past Friday, Atlanta got spanked when they played Pittsburg (20-56) when they played them in Pittsburg. Before the game started, Darryl Young K5DGY set up a radio as a cross-band repeater so I could hit the Freedom Link with my HT from the stadium. Daryl lives close enough to the stadium that I walked to his house and visited with him for a few minutes before the game. At the end of our visit, Darryl suggested I go introduce myself to Johnny Jordan N5AIU. Johnny is the part-time percussion band director for Pittsburg.
I've spoken with Johnny on the air in the past when Steven Smith W5YME (sk) and Jim Collom (N5YU) first got the Cussetta Mountain 146.840 repeater on the air. Like Darryl, I've talked to him on the air, but never met him in person. Johnny had already left by the time I made it to the Pittsburg side at the end of the game.
Boogie N5GNR and Bubba N5APP had a band contest the next day in Mt. Pleasant. Fortunately, the Pittsburg Band also went to the contest, and I was able to introduce myself to Johnny. I finally got to meet him after talking with him on the air over the past few years.
We visited for about 5 minutes before I realized he was my first band director! Due to my parents' divorce, my middle school life was pretty unstable as my dad had moved around quite a bit. Because of that instability, I wasn't able to start band until I was in the 8th grade at Thomas J. Rusk Middle School in Nacogdoches. I missed beginning band as a 6th grader, so Johnny paired me up with another baritone player to help me "catch up" to the rest of the middle school marching band. That was during the '90-'91 school year... 26 years ago!
I didn't stay with him for very long, as I moved back home with my mom. But, like Jeff Bickham KG5LFQ once said, "how could anybody who's met you ever forget you?"
Club Meeting this Saturday
With all that's been going on with the boys in the band, I've missed out on a lot of anticipated ham radio events. Most recently, I missed the ARCOS sidewalk sale in Shreveport and the MTC Ham Radio Day in Paris. This weekend, I'll get to make the club meeting, but I have to rush the boys off to band practice right after. I'm looking forward to the club meeting this weekend because it's a welcomed break from everything else I have going on.
We'll have our sausage and pancakes starting at 8:30, and our meeting at 9. The drawing prizes this month are for a Yaesu FTM-3100R VHF mobile radio and a dual-band Baofeng HT.
2017 Club Officer Nominations Open Up!
Nominations for our 2017 Club Officers will open up this Saturday at our monthly club meeting. Offices seeking nomination are for President, Vice-President, and Secretary/Treasurer. Jim Collom N5YU will remain the club repeater trustee and Roger Fouse KB5ROD will remain the club chaplain for their 3rd year in their positions.
Under our current bylaws, the club president can serve three subsequent terms. All other officers can serve indefinitely if they are so re-elected.
Nominations will be closed in November immediately prior to the elections. If you are willing to serve as a club officer, please reply to this email and let us know which office!
Hope to hear you on the net tonight, and I'll see you on Saturday!
73,
-=Jerry A. Goodson=- W5BFF
---
License and Member Status Information for Jerry Goodson

FCC Database Information for W5BFF: [LINK]


JERRY A GOODSON
2674 CR. 3214
ATLANTA, TX 75551
FRN: 0008557175
License Class: GENERAL
License Expiration: 06/05/2023




Your amateur radio license expiration date is more than a year out.



Have you considered upgrading your license? You can study for free by clicking on the picture below.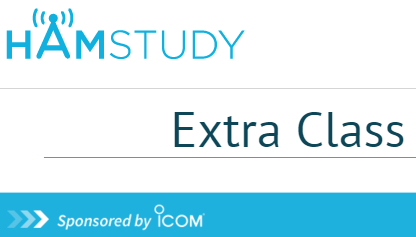 https://hamstudy.org/extra2016

You are a lifetime member of the Radio Amateurs of Cass County.



Our records indicate you are a member of the American Radio Relay League. The RACC is an ARRL Affiliated Club, and we thank you for your membership and support!
---
Upcoming Events:
Click [HERE] for all upcoming events on the RACC Website...
Club Meeting – October 15
The RACC club meeting is held every 3rd Saturday of the month. Show up at 8:30am and have a pancake breakfast while visiting with other area hams. The meeting starts at 9:00am and usually lasts around an hour. The breakfast and club meeting is open to everyone.
*** A VE Test session will be held after the meeting for those wishing to test! ***
Club Meeting – November 19
The RACC club meeting is held every 3rd Saturday of the month. Show up at 8:30am and have a pancake breakfast while visiting with other area hams. The meeting starts at 9:00am and usually lasts around an hour. The breakfast and club meeting is open to everyone.
*** A VE Test session will be held after the meeting for those wishing to test! ***
Worked Three States Special Event - December 1-15 http://www.qrz.com/db/W3S
Members of the Atlanta Rabbits Amateur Radio Club will set up an HF station at the Arkansas-Louisiana-Texas junction to work the special event station. All contacts made will receive a commemorative QSL card. The cards will be on hand for amateur radio operators who stop by the station for a visit.
Club Christmas Party – December 15
Location: Luigi's Italian Restaurant, Atlanta, Texas
The RACC Christmas Party is open to members and guests. We'll meet in the meeting room for dinner (on your own), a special presentation, music, and door prize drawings.
Minden Christmas Hamfest - December 17 http://www.n5rd.org
This very popular event is held in December and draws participants, including dealers, from surrounding states and has gotten bigger each year. There is plenty to see and do for everyone, including testing sessions, great food, door prizes, and main prizes that any ham would love to win. This event provides a "hamfest fix" in a period of the year during which few hamfests are held.

Repeater Updates:
Contact Jim Collom N5YU

We are working on getting the Sulphur Springs 145.11 repeater issue resolved. However, just to let everyone know that even though the 5.11 machine is temporarily off line. This has nothing to do with the interlink between both linking systems.

Kilgore 145.45 machine is temporarily off line also. This is something that acts like the same old problem that's plagued the operations at that location off and on since day one. Jim Rogers N5VGQ and Jim Collom N5YU are currently trying to figure it out.

The "Wide Area Wednesdays" have now expanded to "Spread Out Sundays," too. This is where the Freedom Link System and NCTC Link System are connected all day each day. Everyone is encouraged to get on and use the systems. Nothing better than making new friends on the linking systems!

Club Contacts:


Newsletter: newsletter@raccradio.org
Editor - Jerry A. Goodson, W5BFF
430-342-3376 - Cell

RACC Club: racc@raccradio.org
President - Jerry Goodson, W5BFF
Vice President - Paul James, KG5JTC
Treasurer - Cletus Bauer, N5XFB

RACC Website: www.raccradio.org

Join our group on facebook! Go to www.facebook.com/groups/RACCradio/

At any time you can unsubscribe from the RACC Newsletter.