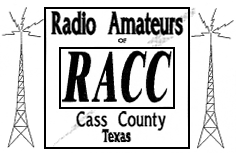 *** NEWSLETTER ***
September 2016
From the Editor: Jerry A. Goodson W5BFF
Greetings! Let me tell you about the ham radio explosion of activity during the past several weeks!
First, congratulations to Vicki Daniel KG5PCD for passing her Technician Class test during the VE test session after last month's meeting! When her call sign came in, I sent her a text message, and her response was: "Pretty Cool Deal!"

L to R: Ralf Vopel KF5WGB, Vicki Daniel KG5PCD,
Jerry A. Goodson W5BFF, Buddy Cunningham N5LUC
On September 5, the real pretty red and white Bi-Plane that club members saw during the Fly-In at the Atlanta Airport back in May crashed at the golf course across US 59 from the airport. There's a little write-up and photos on the RACC website.
We made it up to the Mena Hamfest this year! It was a first for Ladonna KG5GMC, Boogie N5GNR, Bubba N5APP, and Kyle Wayne N5KWG. It had been 30 years since the last time I attended in 1986 with my grandparents Jack KA5IQB (sk) and Lena Goodson. It was real neat! They have long-since closed the petting zoo that was there, but the mini train is still running. I asked the conductor/engineer, and he confirmed it's the very same train that was there 30 years ago! It was certainly a trip down memory lane for me!
Our camping trip was quite eventful! We arrived on the mountain at about 10pm, and was told they had no more spots, and to "just find a spot" to pitch a tent. Ladonna and I had made a round trip to Clinton, AR, so we had been on the road all day. We didn't bother setting up a tent, we just blew up the inflatable mattress for Ladonna and I, while Boogie set up my old Army cot. Bubba and Kyle Wayne crashed in the Suburban. The weather was extremely nice... until it started raining at 4am! We rushed to get everything packed in the Suburban, and that's where we were crammed until day break. It was quite windy and cool... and all I brought was shorts and a t-shirt to wear the next day. I never changed out of my pajamas!!!
It was a great hamfest with many of our club members walking away with drawing prizes. I can remember Ladonna, Nelton Humphries N5HAB, Jim Collom N5YU, Karen Richard (Danny's XYL KG5ESG), Buddy Cunningham N5LUC, Vicki Daniel KG5PCD, and Pat Chaloner N5WCL getting their tickets drawn.
Speaking of Pat Chaloner, her and her husband, Roy WO5A, are members of the club that I finally got to meet! They live in Murfreesboro, AR, but maintain their club membership to continue to support us.
One last thing worth mentioning... Floyd McCall KD5NRI had a table set up at Mena, and sold quite a few items. One thing he didn't sell was a full computer and radio set up for Echolink. A group of students and a couple of faculty members from the Subiaco Academy in Subiaco, Arkansas came by the table. The students are studying to pass their technician, as two of their teachers are hams. Floyd donated the Echolink station to the kids!
The Rabbit Repeater took a lightning strike on August 25. Fortunately, only the power supply was damaged. A spare was put in place, and after a full check, the repeater was back on the air within a couple of hours.
Speaking of the Rabbit Repeater, I built a new repeater controller using a Raspberry Pi SBC (Single-Board Computer) and an Easy Digi interface I bought on eBay for about $10. Using software from OpenRepeater.com, I was able to interface the repeater to the internet via Echolink. I had a QSO with Rob PD0JMY from the Netherlands a few hours ago after he connected to the repeater via Echolink.
Echolink is free software or apps for your smartphone that allows you to connect to other operators or repeaters via the internet. Rob connected to the Rabbit Repeater with his iPhone in Holland, and I was talking to him using my Yaesu FT-2800M!
The last thing I want to cram into this newsletter is about the USS Batfish Amateur Radio Club. The USS Batfish is a WWII submarine at a museum near Muskogee, Oklahoma, along with the USS Oklahoma. The club has exclusive access to the museum, and the first weekend of December, Boogie, Bubba, and Kyle Wayne will spend the whole weekend on the sub making contacts with an ICOM IC-7200 using their club call sign WW2SUB. They will eat, sleep, and operate on the submarine the whole weekend.
Last month, the club suffered substantial damage in a storm. They are trying to raise $7500 for repairs. If you can give, they have a >> GoFundMe << page set up to make donations to their club easier.
I'm sure there's something else I'm forgetting to mention, but I'm running behind on getting this newsletter out, today. I'll be sure to write it down and bring it up at the club meeting this weekend. Check out the events below! There's something going on EVERY WEEKEND for the next five weeks!
I'll see you on Saturday!
73,
-=Jerry A. Goodson=- W5BFF
---
License and Member Status Information for Jerry Goodson

FCC Database Information for W5BFF: [LINK]


JERRY A GOODSON
2674 CR. 3214
ATLANTA, TX 75551
FRN: 0008557175
License Class: GENERAL
License Expiration: 06/05/2023




Your amateur radio license expiration date is more than a year out.



Have you considered upgrading your license? You can study for free by clicking on the picture below.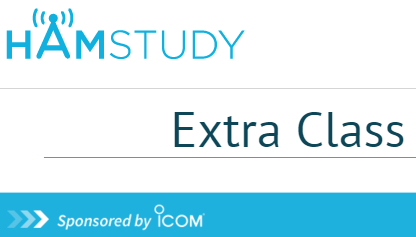 https://hamstudy.org/extra2016

You are a lifetime member of the Radio Amateurs of Cass County.



Our records indicate you are a member of the American Radio Relay League. The RACC is an ARRL Affiliated Club, and we thank you for your membership and support!
---
Upcoming Events:
Click [HERE] for all upcoming events on the RACC Website...
Club Meeting – September 17
The RACC club meeting is held every 3rd Saturday of the month. Show up at 8:30am and have a pancake breakfast while visiting with other area hams. The meeting starts at 9:00am and usually lasts around an hour. The breakfast and club meeting is open to everyone.
*** A VE Test session will be held after the meeting for those wishing to test! ***
Texas QSO Party and Tailgate Sale - September 24 & 25
The Tailgate sale on Saturday will start at 7am and go until noon or everybody sells everything... whichever comes first.
The Texas QSO Party runs from 9am-9pm on Saturday, and 9am-3pm on Sunday. The goal is to make at least one contact in each of the 254 Texas counties. Contacts will primarily be made on 40 meters, but contacts on ALL HF bands count!


ARCOS Annual Cookout & Swapmeet - October 1
10am - 3pm
North Shreveport Baptist Church
4930 Old Mooringsport Rd.
Shreveport, LA 71107

Free Catfish + Drink + All the trimmings! Lunch starts at noon. Donations accepted!


Main Trading Company Ham Radio Day - October 8
http://www.mtcradio.com/ham-radio-day/
8am - 2pm at the Main Trading Company in Paris, TX


Worked Three States Special Event - December 1-15 http://www.qrz.com/db/W3S
Members of the Atlanta Rabbits Amateur Radio Club will set up an HF station at the Arkansas-Louisiana-Texas junction to work the special event station. All contacts made will receive a commemorative QSL card. The cards will be on hand for amateur radio operators who stop by the station for a visit.
Freedom Link Group
A SPECIAL THANKS to the people responsible in keeping the Freedom Link Tower Sites clean and performing baby sitting duties at each location from time to time.

Cussetta Mountain 84 Machine - Jerry Goodson W5BFF and Family (Ladonna KG5GMC, Cody N5GNR, Dylan N5APP, and Kyle Wayne N5KWG)

Springdale 31 Machine - Jim & JoAnn Collom (N5YU and KB5SQL)

TXK Barkman 39 Machine - Richard Arthur N5RGA

Karnack 17 Machine - Jim & JoAnn Collom (N5YU and KB5SQL)

Longview 64 Machine - Jim Rogers N5VGQ

Kilgore 45 Machine - Jim Rogers N5VGQ

Midway 36 Machine - Larry & Sabrina Pollard (W5ADI and W5DMI)

Lake-O-the Pines 47 Machine - Pete Wright KB5PDW

Sulphur Springs 11 Machine - Nathan Bailey N5REL

The Atlanta 98, Nashville 045 and the Shreveport 76 are all maintained by their club members.

Jim Collom N5YU and Jim Rogers N5VGQ take care of all the technical work and troubleshooting when the needs arise.

If anyone else would like to assist at any of these sites, please contact the person attending that site currently. All assistance is greatly appreciated!

For a list of all of the linked repeaters on the Freedom Link Group, the North Central Texas Connection, and other area repeaters and nets, please visit the

Radio Amateurs of Cass County Website

Club Contacts:


Newsletter: newsletter@raccradio.org
Editor - Jerry A. Goodson, W5BFF
430-342-3376 - Cell

RACC Club: racc@raccradio.org
President - Jerry Goodson, W5BFF
Vice President - Paul James, KG5JTC
Treasurer - Cletus Bauer, N5XFB

RACC Website: www.raccradio.org

Join our group on facebook! Go to www.facebook.com/groups/RACCradio/

At any time you can unsubscribe from the RACC Newsletter.