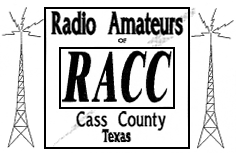 *** NEWSLETTER ***
August 2016
From the Editor: Jerry A. Goodson W5BFF
I've got a small confession to make: I haven't done too terribly much ham radio this past month. I programmed some Baofeng HTs for a couple of club members, I dropped off some MFJ products with John Avey for repairs, and did a little work on the Rabbit Repeater, but that's about it. I was supposed to hang a yagi on a tower for Jim, but the weather wasn't favorably working with my schedule. We cancelled three different attempts, one time even waiting at the site for the weather to move out. While we had it on the calendar, some mechanical failures kept us from making the Shreveport hamfest. To top it off, getting ready for school to start back up with three boys, two of which are in the high school band, things have been pretty taxing in the Goodson house. We're all looking forward to this weekend where the club meeting is the ONLY thing on the agenda... it will be a welcomed break from everything else!
In the not-so-distant future, I'll be posting a frequency list for convenient programming of repeaters in this area on the club website. I'll also have some CHiRP files available for download with all of the Freedom Link Group and North Central Texas Connection repeaters, along with FRS, GMRS, and MURS channels for easy cloning into some of the popular Baofeng HTs.
This month, Jim N5YU changed things up a little. The prize drawing will be for the new Yaesu FTM-3100R 2-meter mobile transceiver and a dual-band HT. I never won a FT-2900R, so maybe I'll win the newer sleeker radio!

L to R: Ralf Vopel KF5WGB, Pete Wright KB5PDW, Steve Rogers AF5JR, and Jerry Goodson W5BFF
Congratulations to Pete Wright KB5PDW. He upgraded to General Class after the July club meeting. He, also, got his new vanity call sign last week.
The club vice-president, Paul James KG5JTC, is starting to plan the club Christmas party. If you can contribute to that planning, he'd sure appreciate the help.
I'll see you on Saturday!
73,
-=Jerry A. Goodson=- W5BFF
---
License and Member Status Information for Jerry Goodson

FCC Database Information for W5BFF: [LINK]


JERRY A GOODSON
2674 CR. 3214
ATLANTA, TX 75551
FRN: 0008557175
License Class: GENERAL
License Expiration: 06/05/2023




Your amateur radio license expiration date is more than a year out.



Have you considered upgrading your license? You can study for free by clicking on the picture below.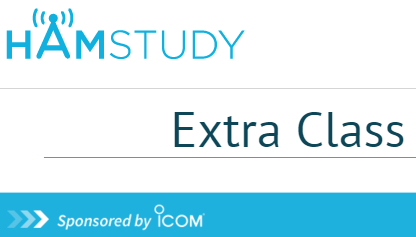 https://hamstudy.org/extra2016

You are a lifetime member of the Radio Amateurs of Cass County.



Our records indicate you are a member of the American Radio Relay League. The RACC is an ARRL Affiliated Club, and we thank you for your membership and support!
---
Upcoming Events:
Click [HERE] for all upcoming events on the RACC Website...
Club Meeting – August 20
The RACC club meeting is held every 3rd Saturday of the month. Show up at 8:30am and have a pancake breakfast while visiting with other area hams. The meeting starts at 9:00am and usually lasts around an hour. The breakfast and club meeting is open to everyone.
*** A VE Test session will be held after the meeting for those wishing to test! ***


Queen Wilhelmina Hamfest - September 9 & 10: http://www.menahamfest.net/
Come enjoy the beauty of Rich Mountain with family and friends. Forty five years ago a number of guys on 75 meters decided to come to this place to do just that.
Y'all come enjoy the mountain, fellowship, and let's get acquainted. Just 13 miles west of Mena, Arkansas, on Hwy 88, Queen Wilhelmina State Park sits at an elevation of 2500 ft on Rich Mt.
35 RV and 6 tent only spaces with plenty of overflow camping allowable.
$5000+ in prizes to be given away.
VE testing.


Texas QSO Party and Tailgate Sale - September 24 & 25
The Tailgate sale on Saturday will start at 7am and go until noon or everybody sells everything... whichever comes first.
The Texas QSO Party runs from 9am-9pm on Saturday, and 9am-3pm on Sunday. The goal is to make at least one contact in each of the 254 Texas counties. Contacts will primarily be made on 40 meters, but contacts on ALL HF bands count!


Worked Three States Special Event - December 1-15 http://www.qrz.com/db/W3S
Members of the Atlanta Rabbits Amateur Radio Club will set up an HF station at the Arkansas-Louisiana-Texas junction to work the special event station. All contacts made will receive a commemorative QSL card. The cards will be on hand for amateur radio operators who stop by the station for a visit.
NET INFO: RACC Net Tuesday nights at 8:00pm

146.980 (-) 100.0 - The RACC Repeater connects to the Freedom Link Group repeater system for the RACC/Freedom Link Group wide-area net.

When checking in on remote nets, please wait for the net control operator to call for check-ins in your area. They usually make the calls by repeater. Remember to key up and wait about one full second before you start to speak. Prefix your call sign with "Net control, this is..."

This is necessary for all of the repeaters to connect up. Otherwise, the first part of your traffic will be cut off.



FREEDOM LINK GROUP: Contact Jim Collom, N5YU
"Linking Radio Communications Across The Four States Area"
The Freedom Link Group on www.repeaterbook.com


Freedom Link Group Repeaters: 100% RF Connected Full Time Linked System

145.110 (-) 100.0 - Sulphur Springs, TX
145.170 (-) 100.0 - Karnack, TX Picken's Hill
145.310 (-) 100.0 - Atlanta, TX Springdale
145.390 (-) 100.0 - Texarkana, TX Barkman Creek
145.450 (-) 136.5 - Kilgore, TX WX5FL
145.470 (-) 136.5 - Avinger, TX Lake O' the Pines
146.640 (-) 136.5 - Longview, TX Longview/East Texas Amateur Radio Club Repeater
146.760 (-) 186.2 - Shreveport, LA ARCOS on Independence Stadium
146.840 (-) 100.0 - Marietta, TX Cussetta Mountain
147.045 (+) 107.2 - Nashville, AR Howard County Emergency Amateur Radio Club Repeater
147.100 (+) 136.5 - Quitman, TX W6TUG
147.360 (+) 100.0 - Pittsburg, TX Midway
444.425 (+) 100.0 - Texarkana, TX Barkman Creek



North Central Texas Connection Repeaters: http://www.northcentraltexasconnection.com
The Freedom Link Group connects to the North Central Texas Connection on Wednesdays for Wide-Area Wednesday.

146.900 (-) 110.9 - Brazos VHF
147.200 (+) 88.5 - Hamilton, TX
442.125 (+) 156.7 - Fort Worth, TX
443.200 (+) 110.9 - Aledo, TX
443.300 (+) 110.9 - Nevada, TX
443.625 (+) 151.4 - Emory, TX
443.750 (+) 100.0 - Bonham, TX
443.850 (+) 110.9 - Arlington, TX
444.175 (+) 114.8 - Brazos UHF
444.175 (+) 110.9 - Plano, TX
444.500 (+) 114.8 - Paris, TX
444.725 (+) 110.9 - Caddo / Eastland
444.825 (+) 151.4 - Sulpur Springs, TX
444.900 (+) 114.8 - Albany, TX



Various Nets on the Freedom Link Group:
Sunday Nights – Nashville's Howard County Emergency Net at 9:01 PM
Tuesday Nights – The RACC Ragchew Net connects with the 146.670 ARCOS group at 8:00 PM
Thursday Night – We RBI Link with the ARCOS Net 146.670 at 8:00 PM

For other VHF Nets in the area, please visit our VHF Nets page...

Club Contacts:


Newsletter: newsletter@raccradio.org
Editor - Jerry A. Goodson, W5BFF
430-342-3376 - Cell

RACC Club: racc@raccradio.org
President - Jerry Goodson, W5BFF
Vice President - Paul James, KG5JTC
Treasurer - Cletus Bauer, N5XFB

RACC Website: www.raccradio.org

Join our group on facebook! Go to www.facebook.com/groups/RACCradio/

At any time you can unsubscribe from the RACC Newsletter.