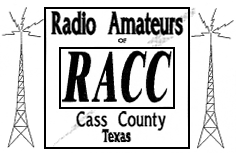 *** NEWSLETTER ***
July 2016
From the Editor: Jerry A. Goodson W5BFF
Wow, what a month! Congratulations to Eric Woods for passing the Technician license exam after the meeting last month.

L to R: Ralf Vopel KF5WGB, Eric Woods
Jerry Goodson W5BFF, Buddy Cunningham N5LUC
At an ad-hoc VE Test session on July 9, Thomas Baudoin passed the Technician license exam.

L to R: Ralf Vopel KF5WGB, Jeff Brown KA5IVU
Thomas Baudoin, Jerry Goodson W5BFF
Special thanks to the volunteers that helped administering the license exams to bring new hams into the hobby!
On June 22, several operators from the Freedom Link Group (FLG) and the North Central Texas Connection (NCTC) gathered at the repeater site in Sulphur Springs to help get the two systems linked. Jim Rogers N5VGQ spent over 10 hours on the tower moving some repeater antennas and mounting new ones. Thom Wilbeck N5KGN went up the tower with Jim for the first 5 hours, and helped with the big heavy stuff. Ground crew included Jeffrey Johnson KG5HKI, Larry Pollard W5ADI, Sabrina Pollard W5DMI, Nelton Humphries N5HAB, Kyle Wayne Goodson KG5HFY, and Jerry Goodson W5BFF. In the shack working on the repeaters were Jim Collom N5YU, Nathan Bailey N5REL, and Jon Moon KA5HND. Eric Woods came by to observe, as well. Jim N5YU and Nathan N5REL expressed gratitude for all the operators who came out to help with the project.

RACC Repeater Site
RACC members gathered at the RACC 146.980MHz repeater site to tidy up. Ralf Vopel KF5WGB, Bobby Brownlee WB5OSD, and Paul James KG5JTC showed up with lawn mowers and weedeaters. Jerry W5BFF showed up with workers Boogie KG5HGA, Bubba KG5HFZ, and Kyle Wayne N5KWG. It took the group about twenty minutes to get the site looking good. Thanks to those who came out!
!!! Antenna Launcher Contest !!!
The antenna launcher contest didn't happen during Field Day due to time constraints. It has been rescheduled to happen at the airport after the club meeting this weekend. There will be 2 events: who can launch the farthest, and who can launch the most accurate. A one-year paid ARRL individual membership will be awarded to the winner of each event. Kyle Wayne N5KWG will be the official judge (and bullet retriever!) Make sure your bullet can be found. Flagging tape is recommended.
Vanity Call Sign Craze!!!
Recently, the FCC suspended charging the application fee for a vanity call sign. Recent vanity call signs granted in our area include WX5FL for the Freedom Link Group, W5AJW for A.J. Waters, W5ADI for Larry Pollard, and N5KWG for Kyle Wayne Goodson.
Other vanity call signs applied for that are currently pending include N5CS for Jerry Goodson, N5GNR for Cody "Boogie" Goodson, and N5APP for Dylan "Bubba" Goodson.
Getting a vanity call sign is fairly easy. The hardest part is figuring out how to navigate around the FCC CORES and ULS website to reach the application. The first step is figuring out what call sign(s) availability for which you wish to apply. The www.radioqth.net website has made that easy! Then, it's just a matter of registering for a CORES password, then filing the application on the FCC ULS website. The application granting process takes the FCC approximately 20 days after they receive the application.
Club Meeting
I look forward to seeing you on Saturday! Keeping true to form, we'll have our sausage and pancake breakfast, and we'll be raffling off a Yaesu FT-2900 and Baofeng dual-band HT. We'll have a brief slide show of our Field Day setup, and talk a little bit about Geocaching. After the meeting, we'll have volunteers ready to hold a VE test session if anybody wishes to test for a new license or upgrade their existing license. Last, but not least, we'll have our antenna launcher contest! See y'all Saturday!
73,
-=Jerry A. Goodson=- W5BFF
P.S. Don't forget to check out the RACC website if you haven't done so lately! We have added a ton of pictures and other good info. Check back often as more updates are coming!
---
License and Member Status Information for Jerry Goodson

FCC Database Information for W5BFF: [LINK]


JERRY A GOODSON
2674 CR. 3214
ATLANTA, TX 75551
FRN: 0008557175
License Class: GENERAL
License Expiration: 06/05/2023




Your amateur radio license expiration date is more than a year out.



Have you considered upgrading your license? You can study for free by clicking on the picture below.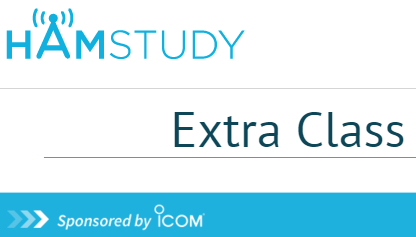 https://hamstudy.org/extra2016

You are a lifetime member of the Radio Amateurs of Cass County.



Our records indicate you are a member of the American Radio Relay League. The RACC is an ARRL Affiliated Club, and we thank you for your membership and support!
---
Upcoming Events:
Click [HERE] for all upcoming events on the RACC Website...
Club Meeting – July 16
The RACC club meeting is held every 3rd Saturday of the month. Show up at 8:30am and have a pancake breakfast while visiting with other area hams. The meeting starts at 9:00am and usually lasts around an hour. The breakfast and club meeting is open to everyone.
*** A VE Test session will be held after the meeting for those wishing to test! ***


SARA Hamfest - August 13: http://www.shreveporthamfest.org
Queen Wilhelmina Hamfest - September 9 & 10: http://www.menahamfest.net/
Come enjoy the beauty of Rich Mountain with family and friends. Forty five years ago a number of guys on 75 meters decided to come to this place to do just that.
Y'all come enjoy the mountain, fellowship, and let's get acquainted. Just 13 miles west of Mena, Arkansas, on Hwy 88, Queen Wilhelmina State Park sits at an elevation of 2500 ft on Rich Mt.
35 RV and 6 tent only spaces with plenty of overflow camping allowable.
$5000+ in prizes to be given away.
VE testing.


Texas QSO Party and Tailgate Sale - September 24 & 25
The Tailgate sale on Saturday will start at 7am and go until noon or everybody sells everything... whichever comes first.
The Texas QSO Party runs from 9am-9pm on Saturday, and 9am-3pm on Sunday. The goal is to make at least one contact in each of the 254 Texas counties. Contacts will primarily be made on 40 meters, but contacts on ALL HF bands count!


Worked Three States Special Event - December 1-15 http://www.qrz.com/db/W3S
Members of the Atlanta Rabbits Amateur Radio Club will set up an HF station at the Arkansas-Louisiana-Texas junction to work the special event station. All contacts made will receive a commemorative QSL card. The cards will be on hand for amateur radio operators who stop by the station for a visit.
NET INFO: RACC Net Tuesday nights at 8:00pm

146.980 (-) 100.0 - The RACC Repeater connects to the Freedom Link Group repeater system for the RACC/Freedom Link Group wide-area net.

When checking in on remote nets, please wait for the net control operator to call for check-ins in your area. They usually make the calls by repeater. Remember to key up and wait about one full second before you start to speak. Prefix your call sign with "Net control, this is..."

This is necessary for all of the repeaters to connect up. Otherwise, the first part of your traffic will be cut off.

REPEATER REPORT

As of this newsletter all of our Freedom Link Repeaters are functional with the exception of Kilgore and Quitman. By the time this gets published there is a good chance that Jim Rogers N5VGQ will have Kilgore back onto the System.

Kilgore has given us a problem almost since day one. However, we hopefully have found the cause of the problem if it's the possibility of being the same thing I found at Karnack last Sunday the cure will be rather simple.

JoAnn and I made a trip to Sulphur Springs on Friday and met up with Nathan Bailey N5REL at the tower site. After a few hours of retuning equipment, installing new equipment, standing in total disbelief and scratching our heads? We made a simple change of the receiver antenna with the transmitter antenna and WOW the noise was gone!

The Repeater at Sulphur Springs is 145.11 w/100hz PL. In the early test it's giving good coverage from just West of Mt. Pleasant all the way to Greenville TX along I-30. It's also providing service to the Red,River North of Paris Tx and just about the same distance to the South.

This repeater and system iterconnect was the dream of Steven Smith W5YME and with the hard work of many we have made HIS DREAM come true. I know he is smiling at everyone that has made this happen!

Remember... "Wide Area Wednesdays"!
The Freedom Link System and the NCTC System auto-connect on Wednesdays at 5:55AM and stay connected until 9:30PM. It gives time to test the systems and gives the opportunity to make new friends!! Just remember, to "NOT Quick Key"! Key then wait about a full second ....then talk. Your not just opening your repeater, your opening some 26 repeaters during "Wide Area Wednesdays"
Thanks for all the good words and support from many of you! We hope to see things level out a bit as we move forward. Enjoy the System !!

Regards,
Jim Collom N5YU

FREEDOM LINK GROUP: Contact Jim Collom, N5YU
"Linking Radio Communications Across The Four States Area"
The Freedom Link Group on www.repeaterbook.com


Freedom Link Group Repeaters: 100% RF Connected Full Time Linked System

145.110 (-) 100.0 - Sulphur Springs, TX
145.170 (-) 100.0 - Karnack, TX Picken's Hill
145.310 (-) 100.0 - Atlanta, TX Springdale
145.390 (-) 100.0 - Texarkana, TX Barkman Creek
145.470 (-) 136.5 - Avinger, TX Lake O' the Pines
146.640 (-) 136.5 - Longview, TX Longview/East Texas Amateur Radio Club Repeater
146.760 (-) 186.2 - Shreveport, LA ARCOS (Amateur Radio Club of Shreveport) on Independence Stadium
146.840 (-) 100.0 - Marietta, TX Cussetta Mountain
147.045 (+) 107.2 - Nashville, AR Howard County Emergency Amateur Radio Club Repeater
147.100 (+) 136.5 - Quitman, TX W6TUG
147.360 (+) 100.0 - Pittsburg, TX Midway
444.425 (+) 100.0 - Texarkana, TX Barkman Creek



North Central Texas Connection Repeaters: http://www.northcentraltexasconnection.com
The Freedom Link Group connects to the North Central Texas Connection on Wednesdays for Wide-Area Wednesday.

146.900 (-) 110.9 - Brazos VHF
147.200 (+) 88.5 - Hamilton, TX
442.125 (+) 156.7 - Fort Worth, TX
443.200 (+) 110.9 - Aledo, TX
443.300 (+) 110.9 - Nevada, TX
443.625 (+) 151.4 - Emory, TX
443.750 (+) 100.0 - Bonham, TX
443.850 (+) 110.9 - Arlington, TX
444.175 (+) 114.8 - Brazos UHF
444.175 (+) 110.9 - Plano, TX
444.500 (+) 114.8 - Paris, TX
444.725 (+) 110.9 - Caddo / Eastland
444.825 (+) 151.4 - Sulpur Springs, TX
444.900 (+) 114.8 - Albany, TX



Various Nets on the Freedom Link Group:
Sunday Nights – Nashville's Howard County Emergency Net at 9:01 PM
Tuesday Nights – The RACC Ragchew Net connects with the 146.670 ARCOS group at 8:00 PM
Thursday Night – We RBI Link with the ARCOS Net 146.670 at 8:00 PM

For other VHF Nets in the area, please visit our VHF Nets page...

Club Contacts:


Newsletter: newsletter@raccradio.org
Editor - Jerry A. Goodson, W5BFF
430-342-3376 - Cell

RACC Club: racc@raccradio.org
President - Jerry Goodson, W5BFF
Vice President - Paul James, KG5JTC
Treasurer - Cletus Bauer, N5XFB

RACC Website: www.raccradio.org

Join our group on facebook! Go to www.facebook.com/groups/RACCradio/

At any time you can unsubscribe from the RACC Newsletter.