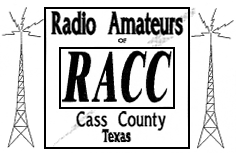 *** NEWSLETTER ***
June 2016
From the Editor: Jerry A. Goodson W5BFF
Greetings members, friends, and associates of the Radio Amateurs of Cass County.
I can't say how proud I was to see how many club members and club supporters show up at the May meeting... the room was PACKED! With standing room only, we had to skip the round-robin introductions or we would've been there all day!
There are a lot of congratulations to be doled out, and one condolence (said with tongue-in-cheek)... Paul James KG5JTC was elected to serve the remainder of this term as the club vice president. Jeff Bickham KG5LFQ upgraded to general. In two separate test sessions, Russell Jarosinski KG5NUQ, Pete Wright KG5NVM, Larry Pollard KG5NVN, Joe Harrison Jr KG5NVO, Frank Reger KG5NVP, and Lori James KG5NVQ passed their exams and earned technician. Welcome to the hobby to all the new licensees!!! Read more in the article on the RACC Website!
Special thanks goes out to VE Steve Rogers AF5JR for helping with preparing the test session packets to be sent to the ARRL. It was my first experience with VE testing, and Steve made it look easy!
The airport folks expressed great appreciation for the club participation at the fly-in last month. They were very pleased to have more help from us than they anticipated... or needed. That's the spirit! Thank you, club members, for representing the RACC so well!
How about that Freedom Link Group!?! There's been a LOT of recent activity, so be sure to read the updates towards the end of this newsletter!
HamCom 2016
The boys and I went to HamCom at the Irving Convention Center this past weekend. We picked up quite a few odds and ends we'll need for Field Day next weekend and we all had a great time. We didn't get inducted into the Royal Order of the Wouff Hong because the ceremony wasn't offered there this year. We did get to meet up with a lot of great folks! Some we knew (Steve Rogers AF5JR, Arthur Christy KF5VWN, and Ronnie Rumsey KA5LEK from our club), and a lot more that we didn't. It was good seeing Richard and the folks with MTC there! He's still having some problems with his back, but he's able to travel again.
I was invited to a luncheon with the North Central Texas Connection (NCTC) folks, and we all shared in the excitement and enthusiasm about the upcoming linking between the NCTC and the Freedom Link.
ARRL North Texas Section Leadership Update
As many of you know, there has been a lot of "drama" between some members and officers of the RACC and the NTX section leadership since Nancy McCain K5NLM visited us back in March. This "drama" has been extended to ARRL representatives beyond our section, division, and even state borders. At HamCom, I had the opportunity to visit with many ARRL members from all over the section, and I've been given a lot of indication our club is not the only entity that has had adverse issues with our current section leadership. At HamCom, I didn't assert myself too terribly much, and as predicted, Nancy made more of an effort to ignore my presence than seeking to speak with me in an attempt to resolve our issues. The general consensus I've gathered from all those I've spoken with is to elect a new section manager in the upcoming elections. I was told the announcement would be published in the October and November issue of QST magazine. I was given a form to nominate a candidate for the position, and we can discuss the potential candidate at the meeting this Saturday.
I'm looking forward to seeing y'all at the meeting this weekend! Oh! Don't let me forget to mention the drawings! It looks like Jim N5YU rounded up a Yaesu FT-2900 and two Baofeng dual-band HTs that need to be won. Breakfast starts around 8:30, and I'll see you there!
73
-=Jerry A. Goodson=- W5BFF
---
License and Member Status Information for Jerry Goodson

FCC Database Information for W5BFF: [LINK]


JERRY A GOODSON
2674 CR. 3214
ATLANTA, TX 75551
FRN: 0008557175
License Class: GENERAL
License Expiration: 06/05/2023




Your amateur radio license expiration date is more than a year out.



Have you considered upgrading your license? You can study for free by clicking on the picture below.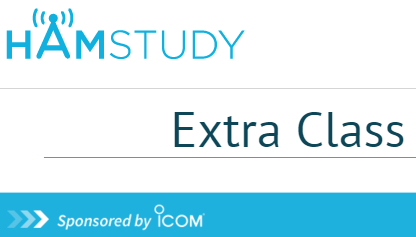 https://hamstudy.org/extra2016

You are a lifetime member of the Radio Amateurs of Cass County.



Our records indicate you are a member of the American Radio Relay League. The RACC is an ARRL Affiliated Club, and we thank you for your membership and support!
---
Upcoming Events:
Click [HERE] for all upcoming events on the RACC Website...
Club Meeting – June 18
The RACC club meeting is held every 3rd Saturday of the month. Show up at 8:30am and have a pancake breakfast while visiting with other area hams. The meeting starts at 9:00am and usually lasts around an hour. The breakfast and club meeting is open to everyone.
*** A VE Test session will be held after the meeting for those wishing to test! ***


ARRL Field Day - June 25-26

This year, the RACC will set up for Field Day at the Atlanta Airport. Event planning is well under way. We're hoping for a good turnout and a lot of participation from club members this year!
POC: Kyle Wayne Goodson KG5HFY KG5HFY@gmail.com
WE NEED RADIO STATIONS! If you have a radio you can bring out and set up, please let Kyle Wayne know.
We will also have full networking capabilities, as well. We'll be using the Field Day Logger by N3FJP Software. Download and install the software on your laptop, and we'll provide the license key when you show up.
All food will be provided at no cost, but donations will be accepted.
Here's the tentative schedule:
Saturday:
09:30 - Show up and start setting up tents, tables, layouts, etc.
11:30 - Break for lunch... on your own and on the economy
13:00 - Start setting up generatos, computers, radios, and antennas. Get on the air as quick as possible! Field Day has officially begun!
16:00 - Antenna Launcher Contest! Got a spud gun? Bring it on out and show off your skills! We'll see who can launch the farthest, and see who can land closest to a target. No cost to compete, and each winner gets individual 1-yr paid membership to the ARRL (donated by W5BFF) Kyle Wayne KG5HFY is the official judge.
18:00 - Hot dogs and hamburgers! Jerry W5BFF will be grilling hot dogs and hamburgers!
*** VE Testing will be available as needed ***
Sunday:
08:00 - Sausage and Pancake breakfast. Just like at our regular club meetings, Ladonna KG5GMC will be cooking us some sausage and pancakes.
09:00 - Prayer meeting. It is Sunday, after all... and some of us will be missing church to attend Field Day. We'll have a small service.
12:00 - Lunch will be sandwiches and finger foods.
16:00 - Cease on-air operations! Our 27 hours stops here. Take down and clean up shouldn't take any longer than an hour.
17:00 - Jerry W5BFF needs a shower! :)
SARA Hamfest - August 13: http://www.shreveporthamfest.org
Queen Wilhelmina Hamfest - September 9 & 10: http://www.menahamfest.net/
Come enjoy the beauty of Rich Mountain with family and friends. Forty five years ago a number of guys on 75 meters decided to come to this place to do just that.
Y'all come enjoy the mountain, fellowship, and let's get acquainted. Just 13 miles west of Mena, Arkansas, on Hwy 88, Queen Wilhelmina State Park sits at an elevation of 2500 ft on Rich Mt.

35 RV and 6 tent only spaces with plenty of overflow camping allowable.

$5000+ in prizes to be given away.

VE testing.



Texas QSO Party and Tailgate Sale - September 24 & 25
The Tailgate sale on Saturday will start at 7am and go until noon or everybody sells everything... whichever comes first.
The Texas QSO Party runs from 9am-9pm on Saturday, and 9am-3pm on Sunday. The goal is to make at least one contact in each of the 254 Texas counties. Contacts will primarily be made on 40 meters, but contacts on ALL HF bands count!

NET INFO: RACC Net Tuesday nights at 8:00pm

146.980 (-) 100.0 - The RACC Repeater connects to the Freedom Link Group repeater system for the RACC/Freedom Link Group wide-area net.

When checking in on remote nets, please wait for the net control operator to call for check-ins in your area. They usually make the calls by repeater. Remember to key up and wait about one full second before you start to speak. Prefix your call sign with "Net control, this is..."

This is necessary for all of the repeaters to connect up. Otherwise, the first part of your traffic will be cut off.

FREEDOM LINK GROUP: Contact Jim Collom, N5YU
"Linking Radio Communications Across The Four States Area"

Jim N5YU has been burning a lot of gas and wearing a lot of rubber off his tires adjusting, maintaining, and fixing the repeaters in the Freedom Link. Jim Rogers N5VGQ has been working on the Kilgore machine almost daily for the past couple of weeks. Jim N5YU and JoAnn Collom KB5SQL have been up to Cussetta Mountain, Springdale, Barkman Creek, and Lake O' The Pines making many adjustments and swapping out batteries to keep the Freedom Link operational.

We can look forward to more balanced audio across the Freedom Link! Jim N5YU and Jim N5VGQ figured out how to use that big fancy service monitor Smitty W5YME (sk) purchased earlier this year to adjust the audio consistently at all the repeater sites on the system. As of the writing of this newsletter, Jim N5YU is headed to the Barkman Creek repeater site to balance the audio.

The most exciting recent news for all of us who enjoy using the Freedom Link is the addition of the ARCOS 146.760MHz repeater in Shreveport! This gives us a full-time link to the repeater down there that the volunteers at the NWS can use to connect the Freedom Link to the K5SHV repeater when they stand up a weather net. In the past, they would have to send Jim N5YU a text message, and the connection would have to be made from the Freedom Link. This new option eliminates the need to have us connect to them, they can connect us themselves!

Repeater Trustee Report:
Smitty and I along with many others from across Texas met at what was called a Skywarn Linking Summit in Sulphur Springs, January 2nd of this year. This was to have two major linking systems with the same mission to meet and discuss a mutual mission and possibly connecting.

It's been slow in coming to fruition but this is soon to happen now. That is that the Freedom Link Group (FLG) and the North Central Texas Connection (NCTC) have the ability to connect to each other at Sulphur Springs. All our FLG equipment is now in place for our 145.11 / PL100hz Repeater placed in the same rack with NCTC and sharing the same tower. At this point just some antenna and hardline work is still lacking.

The connection will be on demand or as needed connection for Skywarn. We are still discussing how much the systems will be connected during non Skywarn times. This will expand coverage from into Arkansas and Louisiana through the DFW area, to near Hamilton then all the way extending to Abilene. That's a LARGE FOOTPRINT but on a personal note, I think it will be great listening to NCTC in possibly a monitor only mode while our approaching SEVERE WX is leaving the Dallas area. Listening to FT. WORTH - NWS, since that's the direction our weather approaches.

This connection is coming into being because of Nathan Bailey N5REL, and my good friend now SK, Steven (Smitty) Smith W5YME and other volunteers such as Jim Rogers N5VGQ, Jon Moon KA5HND, David Stevens KB5WB, myself N5YU and many many more associated with both systems.

We thank everyone that's involved and hope this will be enjoyed by ALL on our good WX days and it raises the level of safety during times of SEVERE WEATHER.

Regards,
Jim Collom N5YU


Freedom Link Group Repeaters:

145.170 (-) 100.0 - Karnack, TX Picken's Hill
145.310 (-) 100.0 - Atlanta, TX Springdale
145.390 (-) 100.0 - Texarkana, TX Barkman Creek
145.470 (-) 136.5 - Avinger, TX Lake O' the Pines
146.640 (-) 136.5 - Longview, TX Longview/East Texas Amateur Radio Club Repeater
146.760 (-) 186.2 - Shreveport, LA ARCOS (Amateur Radio Club of Shreveport) on Independence Stadium
146.840 (-) 100.0 - Marietta, TX Cussetta Mountain
147.045 (+) 107.2 - Nashville, AR Howard County Emergency Amateur Radio Club Repeater
147.100 (+) 136.5 - Quitman, TX W6TUG
147.360 (+) 100.0 - Pittsburg, TX Midway
444.425 (+) 100.0 - Texarkana, TX Barkman Creek

"100% RF Connected Full Time Linked System"
The Freedom Link Group is listed in the RepeaterBook.com directory.
www.repeaterbook.com

Various Nets on the Freedom Link Group:
Sunday Nights – Nashville's Howard County Emergency Net at 9:01 PM
Tuesday Nights – The RACC Ragchew Net connects with the 146.670 ARCOS group at 8:00 PM
Thursday Night – We RBI Link with the ARCOS Net 146.670 at 8:00 PM

For other VHF Nets in the area, please visit our VHF Nets page...

Club Contacts:


Newsletter: newsletter@raccradio.org
Editor - Jerry A. Goodson, W5BFF
430-342-3376 - Cell

RACC Club: racc@raccradio.org
President - Jerry Goodson, W5BFF
Vice President - Paul James, KG5JTC
Treasurer - Cletus Bauer, N5XFB

RACC Website: www.raccradio.org

Join our group on facebook! Go to www.facebook.com/groups/RACCradio/

At any time you can unsubscribe from the RACC Newsletter.