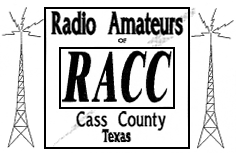 *** NEWSLETTER ***
April 2016
From the Editor: Jerry A. Goodson W5BFF
Greetings members, friends, and associates of the Radio Amateurs of Cass County.
The amateur community, as well as several other communities, felt a great sense of loss with the passing of our club president, Steven Smith W5YME. I'm still feeling that sense of loss with writing this newsletter, as many of us will feel this Saturday at our first club meeting without him. His vision and leadership has really revived the Radio Amateurs of Cass County as well as VHF activity in this part of the world... so much so that he has inspired us to continue his vision and dream now that he's gone. We will keep moving forward and we will always remember our friend. There have been many wonderful things posted online about Smitty. A tribute page is in the works, and you can preview the page at this link: Steven Smith W5YME
Jim Collom N5YU was gracious enough to offer to keep the prize drawings going at our monthly club meetings. Everybody who shows up at the meetings automatically get a ticket, and additional tickets may be purchased for $1 each. The more tickets you buy, the better your chances are of winning!
With so much going on at the last club meeting, I slacked off on one of my duties. I didn't get a picture of Billy Bowers KG5MLK who passed his Technician License Exam! So, pretend there's a picture of Billy here, and congratulate him next time you see him.
We had TWO ARRL section managers at our last meeting! How about that!?! Arkansas Section Manager Dale Temple W5RXU attended the meeting that North Texas Section Manager Nancy McCain K5NLM was scheduled to present the monthly program. Nancy highlighted the roles and responsibilities of her position. Aside some local and area ARES representatives, this is the first time any ARRL officials have visited the RACC. Becoming an ARRL affiliated club was one of the first tasks Steven Smith W5YME took on when he became president of the club last year. It was an excellent meeting with about 37 people in attendance. Special thanks go out to Dale and Nancy for making the long drives to come visit us!
As many of you know, I have been teaching students at the Atlanta Middle School about amateur radio. The big project we've been working on is a high-altitude balloon launch named "The Icarus Mission." That launch is coming up very soon at the Atlanta Middle School in the practice football field. You are invited to come and watch the launch. Shortly after the launch, my boys and I will hit the road to recover the balloon when it touches down. The scheduled launch date/time is Thursday, April 14, 2016 at 12:45pm CDT. Starting around 12:00pm, you can track the balloon online at: http://aprs.fi/#!mt=roadmap&z=11&call=a%2FKA5AHS-11
Last, but not least, you may notice the newsletter looks a little bit different than it has in the past. I generated this newsletter with the new RACC website. It is temporarily up at http://raccradio.hydrashok.com until I can get the domain transferred. I hope to have it completely up and running by the end of next month. I have a lot of information from the old site to move over before the switch will be made, but you'll find there will be a lot more club and radio related information on the new site. These newsletters will be archived automatically. Reply to this email and let me know what you think! I am open to suggestions, comments, and even criticism. :)
With that, I look forward to seeing y'all this weekend at the club meeting.
73
-=Jerry=- W5BFF
---
License and Member Status Information for Jerry Goodson

FCC Database Information for W5BFF: [LINK]


JERRY A GOODSON
2674 CR. 3214
ATLANTA, TX 75551
FRN: 0008557175
License Class: GENERAL
License Expiration: 06/05/2023




Your amateur radio license expiration date is more than a year out.



Have you considered upgrading your license? You can study for free by clicking on the picture below.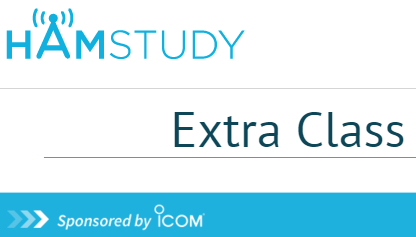 https://hamstudy.org/extra2016

You are a lifetime member of the Radio Amateurs of Cass County.



Our records indicate you are a member of the American Radio Relay League. The RACC is an ARRL Affiliated Club, and we thank you for your membership and support!
---
Upcoming Events:
Click [HERE] for all upcoming events on the RACC Website...
Club Meeting – April 16
The RACC club meeting is held every 3rd Saturday of the month. Show up at 8:30am and have a pancake breakfast while visiting with other area hams. The meeting starts at 9:00am and usually lasts around an hour. The breakfast and club meeting is open to everyone.
*** A VE Test session will be held after the meeting for those wishing to test! ***
Four States Amateur Radio Club Hamfest - May 7

ARRL Field Day - June 26-27


This year, the RACC will set up for Field Day at the Atlanta Airport. Planning is underway for several activities. The planning chairman is Kyle Wayne Goodson KG5HFY, and he can be contacted at KG5HFY@gmail.com

Texas QSO Party and Tailgate Sale - September 24 & 25
The Tailgate sale on Saturday will start at 7am and go until noon or everybody sells everything... whichever comes first.
The Texas QSO Party runs from 9am-9pm on Saturday, and 9am-3pm on Sunday. The goal is to make at least one contact in each of the 254 Texas counties. Contacts will primarily be made on 40 meters, but contacts on ALL HF bands count!

NET INFO: RACC Net Tuesday nights at 8:00pm

When checking in on remote nets, please wait for the net control operator to call for check-ins in your area. They usually make the calls by repeater. Remember to key up and wait about one full second before you start to speak. Prefix your call sign with "Net control, this is..."

This is necessary for all of the repeaters to connect up. Otherwise, the first part of your traffic will be cut off.

FREEDOM LINK GROUP: Contact Jim Collom, N5YU

"Linking Radio Communications Across The Four States Area"

Freedom Link Group Repeaters:
145.170 (-) 100.0 - Karnack, TX
145.310 (-) 100.0 - Atlanta, TX
145.390 (-) 100.0 - Texarkana, TX
146.640 (-) 136.5 - Longview, TX Longview/East Texas Amateur Radio Club Repeater
146.840 (-) 100.0 - Marietta, TX
444.425 (+) 100.0 - Texarkana, TX
147.045 (+) 107.2 - Nashville, AR Howard County Emergency Amateur Radio Club Repeater
147.360 (+) 100.0 - Pittsburg, TX
444.900 (+) 100.0 - Pittsburg, TX

"100% RF Connected Full Time Linked System"
The Freedom Link Group is listed in the RepeaterBook.com directory.
www.repeaterbook.com

Various Nets on the Freedom Link Group:
Sunday Nights – Nashville's Howard County Emergency Net at 9:01 PM
Tuesday Nights – The R.A.C.C. Ragchew Net connects with the 146.670 ARCOS group at 8:00 PM
Thursday Night – We RBI Link with the ARCOS Net 146.670 at 8:00 PM

Remember the Daingerfield net on 145.230 at 8:30 PM on Sunday, Longview on Wednesday at 8:30 PM on 147.340 and Texarkana FSARC on Thursday at 7:30 PM

Club Contacts:


Newsletter: newsletter@raccradio.org
Editor - Jerry A. Goodson, W5BFF
430-342-3376 - Cell

RACC Club: racc@raccradio.org
President - Jerry Goodson, W5BFF
Vice President - Paul James, KG5JTC
Treasurer - Cletus Bauer, N5XFB

RACC Website: www.raccradio.org

Join our group on facebook! Go to www.facebook.com/groups/RACCradio/

At any time you can unsubscribe from the RACC Newsletter.