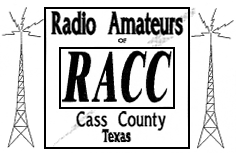 *** NEWSLETTER ***
August 2015
FROM THE EDITOR: Jerry Goodson, W5BFF
I would like to start by asking everyone to keep Ken McClure KF5ULB in your prayers. Ken recently underwent brain surgery to remove a rather large tumor, and looked to start treatment on a second. He didn't receive a good report from the doctor, and it looks like he's going to have a long road to recovery. Danny Freeman KE5THI is in the hospital in Texarkana due to circulatory problems. Danny has a couple of radios with him on the 6th floor of Wadley Hospital, and stays in good spirits. He hits the 145.39 and 146.62 repeaters pretty good, so give him a call and let him know you're thinking about him. Ed Lantz KE5FXS was recently diagnosed with lymphocytic leukemia. Ed is from Northeast Texas, but has relocated to Kentucky. Clarence Shilling WB5BYV had his nose hacked on, but received good reports the doctors were able to remove all of the cancer. Please keep these guys in your prayers.
The big topic in last month's meeting was ARRL membership. The RACC is now an ARRL affiliated club. We have already enjoyed one of the benefits of being an affiliated club by the ARRL providing the necessary insurance coverage for our Field Day activities. ARRL membership is not required by the RACC, but it is encouraged. To continue our affiliation, at least 51% of the RACC voting members must also be ARRL members. The club member roster has grown considerably this year, and in our rapid growth, we have lost track of how many members are also members of the ARRL. If you are a member of the ARRL and RACC, please reply to this email with your ARRL membership status and expiration date.
Speaking of ARRL membership by RACC members, if you are not a member of the ARRL, you can sign up through the RACC, and the club gets to retain $15 of your initial membership dues. If you are up for renewal, you may renew through the RACC and the club gets to retain $2 of your renewal dues. This doesn't apply to family, youth, or any other discounted dues. What a great way you and the ARRL can continue to support the RACC!
The last thing I want to mention is the upcoming Department of Defense drill on HF. Clarence Shilling WB5BYV had posted the information in last week's FSARC weekly net reminder:
The Department of Defense has a yearly Drill starting at 8 AM on August 19 on 3.987.5 MHz and 7.260 MHz. This is coordinated in Arkansas by our friend, and fellow Mocking Bird Net member, Bill Stewart WA9AQQ of Hot Springs. The drill is to see how well the DOD and the Amateur Radio group can function together. I usually take part in this once a year event just to say Texarkana was represented. If you operate HF and have the time, come and join us.
I will try to participate, and I encourage you too, as well, if you are able!
I look forward to seeing you at the meeting this weekend! 73's....


FROM THE PRESIDENT: Steven Smith, W5YME
Greetings to all Ark-La-Tex Area Amateur Radio Operators! Again, I feel it is a great time to be a "Ham"and a member of the Radio Amateurs of Cass County! Thank you to each of you that support our club. I would like to offer you various programs of interest at our club meetings. If you have ideas and/or program interest, please share them with Jerry or myself. I will be out again this Saturday as our Top Alcohol Dragster race team will be competing at the NHRA Regional event in Topeka, KS. It will be a hot race. However, the RACC will still have Breakfast and a Meeting this Saturday J.
The SARA group in Shreveport put on a "REAL NICE" HAMFEST. Thanks SARA for hosting such a nice event in our home area. This year's event was held at the Louisiana State Fairground inside the AIR CONDITIONED Agriculture Building with over 100 tables of Vendors and Tailgaters providing a great selection of both new and used equipment. If you were not able to attend this year, I would try to make plans to attend next year.
Area Repeaters continue to improve. The FSARC in Texarkana has voted to connect their 146.620 repeater with the 147.200 repeater in New Boston. I think this link connection is a natural as the two repeaters will allow communications across Bowie County with an East and West part of the county locations.
With all the modes of communication available to Amateur Radio, the camaraderie among operators, public service ventures, educational opportunities and just plain old fun, makes this a great time to enjoy and join the hobby. Spread the word and help others in their venture as well.
I am here to help. Feel free to contact me at anytime.
73's
Steven W5YME
SCHEDULE OF EVENTS: Add to your calendar!
Club Meeting – August 15
The next club meeting is held every 3rd Saturday of the month. Show up at 8:30am and have a pancake breakfast while visiting with other area hams. The meeting starts at 9:00am and usually lasts around an hour. The breakfast and club meeting is open to everyone. A VE Test session will be held after the meeting for those wishing to test!
Texas QSO Party - September 26 & 27
Tailgate sale will start at 7am and go until noon on Saturday. The Texas QSO Party runs from 9am-9pm on Saturday, and 9am-3pm on Sunday. The goal is to make at least one contact in each of the 254 Texas counties. Contacts will primarily be made on 40 meters, but contacts on ALL HF bands count! We're looking at setting up in downtown Atlanta, so come on out and get on the air!

HAMFEST:
Queen Wilhelmina Hamfest: http://www.menahamfest.net
September 11 & 12 - The 46th Annual Queen Wilhelmina Hamfest will be held at the Queen Wilhelmina State Park (Rich Mountain) just 13 miles west of Mena, Arkansas. For more information, please visit their website.
2015 All Arkansas Hamfest: http://www.carenclub.com/hamfest.php
September 19 - This hamfest is in Little Rock at the Catholic School, and runs from 8am to 3pm.
Main Trading Company Ham Radio Day: http://www.mtcradio.com/ham-radio-day/
October 17 - The annual Ham Radio Day at the Main Trading Company in Paris, TX runs from 8am to 2pm (tailgating starts earlier). It's not a ham fest, but it's pretty close! This event runs on the same day as the RACC club meeting, so after breakfast, I imagine a group of us could head up that way.
If there are other area upcoming events not listed, please send an email to newsletter@raccradio.org.

FROM THE SECRETARY: Cletus Bauer, N5XFB
Since I plan to be in Illinois Saturday, I wanted to give you an update on the Treasurer's Report.
Bank Balance $1,562.85
Breakfast Fund Cash on Hand $111.00
Cletus D.
HIGHLIGHT: R.A.C.C. Members Restore Dead Repeater in Northern Arkansas

In June, Steven W5YME and Jim N5YU travelled to Northern Arkansas to help Mark Mullins NN5NN restore a VHF repeater that had been offline for several years. The following is a letter from the Central Arkansas UHF (CAUHF) Group co-founder, Steven Hicks W5NLR and the feature story found on the CAUHF website:
Special Thanks to Jim Collom N5YU and Steven Smith W5YME for getting the FOX Repeater located in Fox, AR back online and connected with the AR Linking System :

A Letter from Central Arkansas UHFGroup - Hi Mark and Jim,
This is Steven Hicks, W5NLR, co-founder of the Central Arkansas UHF Group (I used to be KC5JVH back in the day). I have talked to both of you in years past...but it's been awhile.
All of us associated with the Central Arkansas UHF Group and the AR Links System wish to thank you so very much for the work you did on the Fox repeater on June 29th, and we wish to thank you even more for linking to us full time. What a great thing you have done to increase the coverage area of our linked system. We appreciate it! We promise to put this link to good use during severe weather and we will also try to make as many new ham friends as possible in the coverage area of the Fox repeater.
I have already posted an article to our web page at www.cauhf.org and we will also make an announcement TONIGHT on the AR Links System net at 8:00 p.m. (every Tuesday night at 8:00 p.m.) Also, I will make a formal announcement about this great repeater and the new link at our next regular meeting which will be held Monday night, July 6th, 5:30 p.m. at Larry's Pizza on Cantrell Road. I wish both of you could attend--but I know that you live far from the Little Rock area.
I am thanking you not only for myself but also on behalf of Randy Wright, AE5RW, club president and Tim Leet, K5TEL, club vice-president and all of the other officers, board members and of course, all of the members! If there is anything you need from us, just let us know. We will do our best to help!
Our EchoLink and IRLP nodes are currently being relocated so they are currently offline but (hopefully) they will be back up by Monday, July 6th. So listen in, check in and talk to us whenever you can! Please keep in touch. EchoLink 215632 and IRLP 7492
Steven Hicks, W5NLR
That Sly Old FOX is BACK ON THE AIR!
…and linked 24/7 to the AR Links System!
145.110 MHz (minus offset) with a 110.9 PL Tone
from http://cauhf.org...
The CAUHF Group and the AR Links System are deeply indebted to our long time friends, Mark Mullins, NN5NN and Jim Collom, N5YU, for resurrecting the old VHF repeater at Fox, Arkansas in Stone County, which had been off the air for quite some time. Also, it is now linked full time to the AR Links System.

This was a HUGE accomplishment, not only for Mark and Jim but also for all of us who are part of the AR Links System! The "Fox Repeater" resides part way up the 975 foot KEMV tower (part of AETN). It covers an area with about a 65 mile radius–this means that the coverage area extends all the way to the Missouri border!

Now, let's try to make some new friends on the Fox repeater, aka "Fox Five Eleven" and get them talking on the AR Links System, which now extends from Arkadelphia to the Missouri border!

FROM THE ARES COORDINATOR: Jason Patterson, KD5RQB

The main weather story for the month has been the heat. One of the campaign topics of the Weather Ready Nation is "Beat the Heat". I am including information from the Beat the Heat Campaign.


North American summers are hot; most summers see heat waves in one or more parts of the United States. Heat is one of the leading weather-related killers in the United States, resulting in hundreds of fatalities each year and even more heat-related illnesses.

Each National Weather Service Forecast Office issues some or all of the following heat-related products as conditions warrant. NWS local offices often collaborate with local partners to determine when an alert should be issued for a local area. For instance, residents of Florida are much more prepared for 90°F+ weather than residents in Alaska.


Excessive Heat Warning—Take Action! An Excessive Heat Warning is issued within 12 hours of the onset of extremely dangerous heat conditions. The general rule of thumb for this Warning is when the maximum heat index temperature is expected to be 105° or higher for at least 2 days and night time air temperatures will not drop below 75°; however, these criteria vary across the country, especially for areas not used to extreme heat conditions. If you don't take precautions immediately when conditions are extreme, you become seriously illness or even die.
Excessive Heat Watches—Be Prepared!Heat watches are issued when conditions are favorable for an excessive heat event in the next 24 to 72 hours. A Watch is used when the risk of a heat wave has increased but its occurrence and timing is still uncertain.
Heat Advisory—Take Action! A Heat Advisory is issued within 12 hours of the onset of extremely dangerous heat conditions. The general rule of thumb for this Advisory is when the maximum heat index temperature is expected to be 100° or higher for at least 2 days, and night time air temperatures will not drop below 75°; however, these criteria vary across the country, especially for areas that are not used to dangerous heat conditions. Take precautions to avoid heat illness. If you don't take precautions, you could become seriously illness or even die.
Excessive Heat Outlooks are issued when the potential exists for an excessive heat event in the next 3-7 days. An Outlook provides information to those who need considerable lead-time to prepare for the event.
During extremely hot and humid weather, your body's ability to cool itself is challenged. When the body heats too rapidly to cool itself properly, or when too much fluid or salt is lost through dehydration or sweating, body temperature rises and you or someone you care about may experience a heat-related illness. It is important to know the symptoms of excessive heat exposure and the appropriate responses. The Centers for Disease Control and Prevention provides a list of warning signs and symptoms of heat illness, and recommended first aid steps. Some of these symptoms and steps are listed below.

Heat cramps may be the first sign of heat-related illness, and may lead to heat exhaustion or stroke.

Symptoms:

Painful muscle cramps and spasms usually in legs and abdomen
Heavy sweating
First Aid:

Apply firm pressure on cramping muscles or gently massage to relieve spasm.
Give sips of water unless the person complains of nausea, then stop giving water


Heat Exhaustion

Symptoms:

Heavy sweating
Weakness
Cool, pale, clammy skin
Fast, weak pulse
Possible muscle cramps
Dizziness
Nausea or vomiting
Fainting

First Aid:

Move person to a cooler environment
Lay person down and loosen clothing
Apply cool, wet cloths to as much of the body as possible
Fan or move victim to air conditioned room
Offer sips of water
If person vomits more than once, seek immediate medical attention.

Heat Stroke

Symptoms:

Altered mental state
One or more of the following symptoms: throbbing headache, confusion, nausea, dizziness, shallow breathing
Body temperature above 103°F
Hot, red, dry or moist skin
Rapid and strong pulse
Faints, loses consciousness

First Aid:

Heat stroke is a severe medical emergency. Call 911 or get the victim to a hospital immediately. Delay can be fatal.
Move the victim to a cooler, preferably air-conditioned, environment.
Reduce body temperature with cool cloths or bath.
Use fan if heat index temperatures are below the high 90s. A fan can make you hotter at higher temperatures.
Do NOT give fluids.

ARES

I want to remind everyone that the ARES Training Net is Monday Nights at 8:00 P.M. If you can't make the net you can still receive credit for ARES Training. To receive credit go to the Miller County ARES Website at http://aresweb.wix.com/ mcaresand listen to the recording. Then send me an email letting me know that you have listened to the recording.

The North Texas ARES/RACES/MARS drill is coming up in October and the Arkansas State ARES/RACES Drill is coming up in November. I will have more details later.

July ARES Statics

Number of Drills, Tests: 4
Person-Hours for Drills: 25.1
Public Service Events: 0
Person-Hours for Public Service Events: 0
Number of Emergency Operations: 0
Person-Hours for Emergency Operations: 0

NET INFO: Tuesday nights at 8:00pm

The RACC repeater has a full-time link to the Freedom Link Group repeaters on Cusseta Mountain, Barkman Creek in Texarkana, and Pickens Hill in Karnack. In addition to the Tuesday night RACC net, the RACC repeater is remote connected to the Howard County Emergency Amateur Radio Group on Sunday nights at 9pm, as well as the SARA repeater on Tuesday and Thursday nights at 8:00 PM.

When checking in on remote nets, please wait for the net control operator to call for check-ins in your area. They usually make the calls by repeater. Remember to key up and wait about one full second before you start to speak. Prefix your call sign with "Net control, this is..." This is necessary for all of the repeaters to connect up. Otherwise, the first part of your traffic will be cut off.

Repeater update:


FREEDOM LINK GROUP: Contact Steven Smith, W5YME or Jim Collom, N5YU

"Linking Radio Communications Across The Four States Area"

Freedom Link Group Repeaters:
146.170 Mhz (-) 100.0 Hz – Karnack, TX
145.310 Mhz (-) 100.0 Hz – Atlanta, TX
145.390 Mhz (-) 100.0 Hz - Texarkana, TX
146.640 Mhz (-) 136.5 Hz - Longview, TX (coming very soon)
146.840 Mhz (-) 100.0 Hz - Marietta, TX
146.980 Mhz (-) 100.0 Hz - Atlanta, TX
444.425Mhz (+) 100.0 Hz - Texarkana, TX

"100% RF Connected Full Time Linked System"
The Freedom Link continues to grow. Last week, we reviewed a map of our coverage and have identified several areas of potential coverage that will add to the SKYWARN warning system as well as We are simplifying the operation as will be reviewed by N5YU at the meeting. One of the areas of greatest concern for hazardous weather, is weather approaching from the South West. We have been visiting with several repeater owners, clubs and trustees for a year now and some of these conversations and dreams are coming to fruition. Very shortly we will be connecting the Freedom Link, with a full time connection, to the LETARC 146.640 Repeater. This will provide coverage from the 259 & 155 on South to Tyler. As mentioned, this will add a great weather reporting area to our system as well as extended communications on good weather days for licensed operators.

The Freedom Link Group is now listed in the RepeaterBook.com directory.
https://www.repeaterbook.com/ repeaters/FeatureSearch.php? system=Freedom-Link%20System& state_id=%&type=systems
Various Nets on the Freedom Link Group:Sunday Nights – We RBI Link with 147.045 Nashville's Howard County Emergency Net at 9:01 PM
Monday Nights – We RBI Link with 147.285 for a joint Cass County and Miller County ARES Training Net at 8:00 PM
Tuesday Nights – The R.A.C.C. Ragchew Net connects with the 146.670 ARCOS group at 8:00 PM
Thursday Night – We RBI Link with the ARCOS Net 146.670 at 8:00 PM

Remember the Daingerfield net on 145.230 at 8:30 PM on Sunday, Longview on Wednesday at 8:30 PM on 147.340 and Texarkana FSARC on Thursday at 7:30 PM


RACC Website: www.raccradio.org

Join our group on facebook! Go to www.facebook.com/groups/RACCradio/