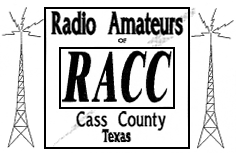 *** NEWSLETTER ***
July 2015
FROM THE EDITOR: Jerry Goodson, W5BFF
I would like to congratulate Gary Shelton KG5IKM and Knighton Hudson KG5IKL on passing their Technician Exams in a test session held at the Atlanta Airport on July 1. I would also like to thank the VEs Roger KB5ROD, Steven W5YME, Jeff KA5IVU, and Jim N5YU for administering the exams. Gary and Knighton made up half of the test review classes that were held in Hughes Springs earlier this year.
L to R: Roger Fouse KB5ROD, Steven Smith W5YME, Gary Shelton KG5IKM,
Knighton Hudson KG5IKL, Jeff Brown KA5IVU, and Jim Collom N5YU
The club will start offering regularly scheduled VE test sessions on the 3rd Saturday of every month following the regular club meeting. There have regularly been enough VEs present at the club meetings to schedule the test sessions on a regular and consistent basis. If you or someone you know needs to test for their license, or upgrade their existing license, invite them to have breakfast, attend the club meeting, and test afterwards!
Ken McClure KF5ULB was recently in the hospital with some pretty severe issues with a couple of brain tumors. After what appears to be a very successful surgery, Ken's back at it this week in his shop. I visited with him this past Saturday, and he's in very good spirits and seems to be recovering well. He told me it's not over, yet, but it looks good. He certainly has a positive attitude about it! Keep him in your prayers as he continues on the road to recovery.
There has been so much happening with the club that the difficulty in putting this newsletter together has shifted. I don't have to look for stuff to put IN the newsletter, I have to strategically decide what to leave OUT of the newsletter. That is due to increase in activities and participation from our club members, and I believe that is the best problem a club could have! We're not just growing our club in number of members, but we're growing the hobby in active participation! I would like to thank all of those who have actively participated, and encourage others to pitch in. I know it has been truly rewarding for me and my family... on a personal level.
This week, let's make Roger KB5ROD work for his money! Tomorrow night, let's ALL check in to the RACC Tuesday Night Net starting at 8:00pm!
*** One more announcement: The Cass County Patriots meet at 6pm on Monday nights at Amigo Juan's in Atlanta, Texas. Tonight, they will start their meeting at the regular time, but will have Technician Test Review sessions immediately following the meeting. The review sessions will run over the next three Mondays, and conclude with a VE Test session. If you know someone wanting to get their license, please send them that way!
FROM THE PRESIDENT: Steven Smith, W5YME
Wow! It is an exciting time to be a part of the Radio Amateurs of Cass County! What is going on you may ask? I would have to reply with a question as "what is not going on"? Just in the past month we have experienced educational classes, testing sessions with new licensees, a proclamation of Amateur Radio Week with the Judge of Cass County Becky Wilbanks, Mayor of Atlanta Keith Crow and other dignitaries. We experienced ARRL Field Day 2015 with special thanks to NOVATRON for use of the location as well as to Jerry Goodson for organization and implementation. New repeaters on-line that expand our SKYWARN ADVANCED WEATHER communication service as well as provide extended communications to all licensed amateurs on good weather days. Expanded Training and Ragchew nets as well as assisting other clubs and groups to expand their repeater systems.
Speaking of helping other groups, Jim N5YU and I went to North Arkansas Monday June 29th to help Mark Mullins get the FOX repeater back online after several years of absence. I have never seen such a thankful and excited group as the members of the AR Links System and the CAUHF Group. Now talk about Linking, the CAUHF and CAREN Groups know how to link repeaters! Combined, they can provide RF communications across the state of Arkansas and they have been doing this for twenty years! I am a native Texan and I dream that we can have such an ability to connect for communications in East Texas.
There IS a lot going on in the R.A.C.C. and amateur radio. We have members helping members with their radios and antennas, we have members teaching children in the community about amateur radio, we have members helping other clubs and so much more. However, there are always additional ways we ALL can serve! It is my hope that each of us can join together to build a greater amateur radio community. Do you have an idea and desire to bring another facet of radio interest or service to our club and community? I sure hope that you do! We are always open to better and expanded ways in which to learn about and serve the amateur radio community and we need YOU to help. Will you help?
I thank each of you for your service to our club and community and look forward to seeing you at our next gathering.
Sincerely,
Steven Smith
President
W5YME
SCHEDULE OF EVENTS: Add to your calendar!
Club Meeting – July 18
The next club meeting is held every 3rd Saturday of the month. Show up at 8:30am and have a pancake breakfast while visiting with other area hams. The meeting starts at 9:00am and usually lasts around an hour. The breakfast and club meeting is open to everyone. A VE Test session will be held after the meeting for those wishing to test!
Texas QSO Party - September 26 & 27
Tailgate sale will start at 7am and go until noon on Saturday. The Texas QSO Party runs from 9am-9pm on Saturday, and 9am-3pm on Sunday. The goal is to make at least one contact in each of the 254 Texas counties. Contacts will primarily be made on 40 meters, but contacts on ALL HF bands count! We're looking at setting up in downtown Atlanta, so come on out and get on the air!
HAMFEST:
SARA Hamfest: http://www.shreveporthamfest.com
August 8 - The Shreveport Amateur Radio Association (SARA) will host the Shreveport Hamfest at the Louisiana State Fairgrounds. For more information, please visit their website.
Queen Wilhelmina Hamfest: http://www.menahamfest.netSeptember 11 & 12 - The 46th Annual Queen Wilhelmina Hamfest will be held at the Queen Wilhelmina State Park (Rich Mountain) just 13 miles west of Mena, Arkansas. For more information, please visit their website.
If there are other area upcoming events not listed, please send an email to newsletter@raccradio.org.
FROM THE SECRETARY: Cletus Bauer, N5XFB
There are currently 59 members and the bank balance is $1562.00.
We have several new members, so let's all welcome Steven Baum KB0UCC, Arthur Christy KF5VWN, James Hickey AC7EE, Knighton Hudson KG5IKL, Pat McReynolds KA5VVG, James Phillips KA5VLQ, Steve Rogers AF5JR, Gary Shelton KG5IKM, and Jeff Weigand KF5IKK.
HIGHLIGHT: The Youngest Hams in Cass County
?Tevis Pappas K5EJD and Kyle Wayne Goodson KG5HFY
In 1959, Tevis Pappas K5EJD became the youngest licensed amateur radio operator in Cass County history at age nine. Fast forward to 2015, fifty six years later, and Kyle Wayne Goodson KG5HFY breaks that record by becoming the youngest licensed amateur radio operator at age eight.
While Kyle Wayne's accomplishment is not small feat, getting licensed today is quite a bit different than it was when Tevis became licensed. Tevis had to pass a 5WPM Morse Code and written test to obtain his Novice license, and the General written test to obtain his Technician license. To advance to General, he had to pass the 13WPM Morse Code test. Tevis obtained his Advanced license when he passed the Element 4A written examination. Keep in mind that this was before the Volunteer Examiner program! To take a test, one had to drive to the closest FCC office. Results weren't immediate, either! One had to wait for the test results to come in the mail. This could take anywhere from a couple of weeks to a couple of months!
The FCC has eliminated the Novice and Advanced class licenses, as well as all of the Morse Code testing requirements. Kyle Wayne simply had to pass the written examination to obtain his Technician license. Testing is done locally with the Volunteer Examiner program. While the days of the old "Bash Books" are gone, Kyle Wayne studied all 432 questions in the current Technician pool to pass his test. After working the radios at Field Day 2015, he looks forward to upgrading to General soon so he can work more HF.
FROM THE ARES COORDINATOR: Jason Patterson, KD5RQB
Through a mutual aid agreement the Miller County ARES Training Net and Cass County ARES Training Net have combined into one net instead of having two separate training nets. Combining the two nets will eliminate the need for two separate ARES Nets and will help operators who will be working together during a communication emergency be familiar with the operators they will be working with.

The Cass/Miller County ARES training Net is Monday Nights at 8:00 PM on the 146.98/84 repeaters linked to the 147.025 repeater. The net consist will consist of taking checks in from ARES members Miller, Cass, and surrounding counties. A training lesson (Jason KD5RQB will conduct the training on the first Monday of each month and Doug KF5WXF will conduct the second, third, fourth, and fifth Monday). After training the net will be opened for check-ins for non-ARES members. If you have any information you would like to share with the net when you check-in please say your call sign with QSTs

June Cass County ARES Statics
Number of Drills, Tests: 4
Person-Hours for Drills: 17.6
Public Service Events: 2
Person-Hours for Public Service Events: 9
Number of Emergency Operations: 0
Hours for Emergency Operations: 0
In closing, I want to thank Jerry W5BFF for organizing the Texas QSO Party events in September.

73
NET INFO: Tuesday nights at 8:00pm
The RACC repeater has a full-time link to the Freedom Link Group repeaters on Cusseta Mountain, Barkman Creek in Texarkana, and Pickens Hill in Karnack. In addition to the Tuesday night RACC net, the RACC repeater is remote connected to the Howard County Emergency Amateur Radio Group on Sunday nights at 9pm, as well as the SARA repeater on Tuesday and Thursday nights at 8:00 PM.
When checking in on remote nets, please wait for the net control operator to call for check-ins in your area. They usually make the calls by repeater. Remember to key up and wait about one full second before you start to speak. Prefix your call sign with "Net control, this is..." This is necessary for all of the repeaters to connect up. Otherwise, the first part of your traffic will be cut off.
Repeater update: R.A.C.C. 443.3 Repeater moves to St. Michaels Hospital /Atlanta.
After a pretty major lightning strike at the Caver Ranch (146.98 site) in May, it was decided to take all the eggs out of one basket.
John Robbins KK5PR made the arrangements for this move with the hospital administration. Jim Collom N5YU, Steven Smith W5YME, Jerry Goodson W5BFF, Cody Goodson KG5HGA, Bubba Goodson KG5HFZ and Kyle Wayne Goodson KG5HFY made this happen July 9th.
This is largely different from most of Jim and Steven's recent work with the Freedom Link System Repeaters. This is a local only machine without any links, so if you're in the Atlanta area give it a try.
The best thing now though is that a single lightning strike cannot take both R.A.C.C. Repeaters out of service!
R.A.C.C. wants to thank all involved with this move and the administration of St. Michaels Hospital.
FREEDOM LINK GROUP: Contact Steven Smith, W5YME or Jim Collom, N5YU
Freedom Link Group Repeaters:
146.840Mhz (-) - Cusseta Mountain, Marietta, Texas
145.390Mhz (-) - Barkman Creek, Leary, Texas
145.170Mhz (-) - Picken's Hill, Karnack, Texas
444.425Mhz (+) - Barkman Creek, Leary, Texas
The Freedom Link Group is now listed in the RepeaterBook.com directory.
https://www.repeaterbook.com/ repeaters/FeatureSearch.php?system=Freedom-Link%20System&state_id=%&type=systems
Various Nets on the Freedom Link Group:Sunday Nights – We RBI Link with 147.045 Nashville's Howard County Emergency Net at 9:01 PM
Monday Nights – We RBI Link with 147.285 for a joint Cass County and Miller County ARES Training Net at 8:00 PM
Tuesday Nights – The R.A.C.C. Ragchew Net connects with the 146.670 ARCOS group at 8:00 PM
Thursday Night – We RBI Link with the ARCOS Net 146.670 at 8:00 PM
Remember the Daingerfield net on 145.230 at 8:30 PM on Sunday, Longview on Wednesday at 8:30 PM on 147.340 and Texarkana FSARC on Thursday at 7:30 PM
FIELD DAY 2015: June 27 & 28
The RACC set up for the annual ARRL Field Day at Novatron in Atlanta. This event was an excellent test for area hams to set up communications for future events and emergency situations. A total of 92 contacts were made primarily between two operating stations. Our success this year isn't based on how many contacts we made, however, it was how efficiently we set up for Field Day, and the positive exposure the club brought amateur radio to the public!
Jeff Brown KA5IVU and the Goodsons - Jerry W5BFF, Cody KG5HGA, Bubba KG5HFZ, and Kyle Wayne KG5HFY, stayed with Field Day the entire duration working contacts day and night.
Equipment setup included: 10KW generator, Porta-cool (probably the MOST important piece of equipment!), 2-meter "talk-in" radio, 4 HF radios, 2 sleeping tents, event tent, grill, and a make-shift 20' mast for mounting antennas. Antennas include a 75-meter dipole, 40-meter dipole, 10-meter dipole, and a 2-meter slim-jim. No commercial antennas were used, and some of them were constructed on site! All radios and equipment were run on "emergency" power sources: generator, battery, and solar!
In addition to making contacts, there were several other activities this year at Field Day. Some of these include cooking hot dogs, learning to "fly a screwdriver" with an air compressor, working on an HF Radio, and constructing a "potato gun" line launcher. (Video of screwdriver trick here: https://youtu.be/I4vr7EDHMWI)
Several other local and area hams stopped by and helped out or just visited. One of the "lessons learned" this Field Day is the need for a visitor's log during future events!
Knighton Hudson KG5IKL and Gary Shelton KG5IKM came by to take their technician test, but we couldn't get it together at Field Day. We re-scheduled the exam for the Wednesday following Field Day weekend, and they both passed!
JB Davis N5THS, Freda Davis N5VFJ, and Bill Ryan KC5TSZ came down from Nashville, Arkansas to visit. Arthur Christy KF5VWN came down from Texarkana. Ken Hodge N5OTR is a truck driver from Ashdown, Arkansas that stopped by for several hours to visit and participate in Field Day.
Steve Ferrell KB5YMB and John Avey KD5ZCQ worked on Nelton's recently acquired Kenwood HF radio, as well as made some contacts!
Other ham visitors and participants include Steven Smith W5YME, Linda Smith W5OME, Jim Collom N5YU, JoAnn Collom KB5SQL, Cletus Bauer N5XFB, Paul Cothren KG5GVL, Loretta Cothren KG5GVK, Jimmy Fouse KE5DKY, Roger Fouse KB5ROD, Nelton Humphries KG5GMD, and Larry Weaver N5THQ.
A few "non-hams" stopped by to check us out! Randall and Jessica Williams were passing by and stopped to see what was going on. "Big Joe" and "Little Joe" Harrison are part of the Cass County Patriots Group. They are both interested in the hobby, and hope to soon be attending the test review course. Lanny Bolt was a ham who didn't renew his license before the end of the 2-year grace period. He was shopping near by, and after seeing what he knew to be Field Day, expressed interest in getting back into the hobby!
Bobby Horn Jr. is a reporter for the Atlanta Citizen's Journal and Cass County Sun who stopped by to take pictures of the event. He, also, reported on the signing of the Amateur Radio Week Proclamations by Cass County Judge Becky Wilbanks and Atlanta Mayor Keith Crow.

Find us on facebook or visit our website for more pictures! (Links are at the bottom)


RACC Website: www.raccradio.org

Join our group on facebook! Go to www.facebook.com/groups/RACCradio/