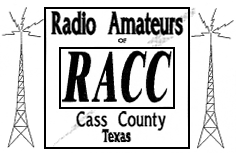 *** NEWSLETTER ***
June 2015
FROM THE EDITOR: Jerry Goodson, W5BFF
I'd like to start off with a note about membership. We will soon be updating the members roster. I noticed a few names on the current roster that have not yet paid their dues. In the next few weeks, we will be dropping those names that are not current. While we don't want to lose any members, it's important to keep the roster current. If you have not yet paid your dues and wish to continue your membership, please get in touch with Cletus soon.

Now, on to the good stuff!
Thanks to the hard work and perseverance of Steven Smith, the Radio Amateurs of Cass County is now an official ARRL club! In a letter dated May 29th, a representative of the ARRL sent the following letter in an email attachment:
Dear Steven:
It gives me great pleasure to advise you that the ARRL Executive Committee has approved your club's application for affiliation with the ARRL. The Radio Amateurs of Cass County is hereby declared a duly affiliated society.
We are sending you a handsome charter to honor this important event. We hope you will coordinate a "Charter Party," and invite your Division Director, Section Manager (SM), or Affiliated Club Coordinator (ACC). Addresses of Directors and SMs are on pages 15 and 16 of QST.
We ask that you keep these officials and us posted on your club's activities. Please send copies of any club news to your SM, ACC, Director and us. Please feel free to contact us with any questions or concerns; we are all vitally interested in your progress.
Your club is now eligible for the benefits of ARRL affiliation; we hope you will make full use of our services. One of those services is our online booklet full of helpful information for clubs – the Active Club Online Primer at < http://www.arrl.org/active- club-primer >
Want to get your club more involved in public service? Want to present programs that make meetings lively? This online book permits quick access to hundreds of pages that can enhance the club and help it gain new members.
Again, congratulations and welcome. We look forward to a long and fruitful relationship with your club.

73,

Norm Fusaro, W3IZ
Assistant Manager,
Membership & Volunteer Programs Department

Steven started the process of getting the club active, again, with the ARRL in November of 2014. During that process, he learned the club never was officially affiliated with the ARRL. Once he learned that, he started the whole process from scratch.

Please visit http://www.arrl.org/affiliated-club-benefits to read how this affiliation can benefit the club. The immediate benefit includes the insurance coverage for club functions. The club is required to have insurance to set up at Novatron for Field Day. A policy was quoted at $250-$275 from a local insurer, so you can see the club has already received an immediate benefit from this affiliation.
FROM THE PRESIDENT: Steven Smith, W5YME
Greetings all R.A.C.C. Members and guests. I hope all of you are doing well! Wow! How time flies! Another busy month has passed and many good things continue to take place in our region in amateur radio and with our R.A.C.C. Mr. Cletus reported six new members joined at our last meeting! We each need to greet these hams, welcome them in and assist them with their amateur radio needs!
Our breakfast meetings are very popular and are going well. Special Thanks to the Goodson family, especially Ladonna KG5GMC for the preparation. Thank you members for the donation to the breakfast as these donations continue to cover the cost of the meals. We can continue with the breakfast as long as we cover the cost without affecting the club general fund.
We have one of the most exciting times and events in the club year approaching... FIELD DAY!!! This is a fun day and I hope each of you can attend and participate in some way :) We are also scheduling proclamation signing with the Atlanta Mayor and County Judge for Amateur Radio Week. I hope you may be available for these signings as well. We will notify you as soon as possible when these will take place.
In closing, I received notice from the American Radio Relay League (ARRL) that we, the Radio Amateurs of Cass County, have been approved as an affiliated club. This affiliation offers us much material and support from the ARRL that includes liability coverage for our club activities and events. Hooray!!!!
I look forward to seeing each of you Saturday!
73's
Steven
W5YME
SCHEDULE OF EVENTS: Add to your calendar!
Club Meeting – June 20
The next club meeting is held every 3rd Saturday of the month. Show up at 8:30am and have a pancake breakfast while visiting with other area hams. The meeting starts at 9:00am and usually lasts around an hour. The breakfast and club meeting is open to everyone.
Field Day - June 27 & 28
*** SEE THE FIELD DAY SECTION OF THIS NEWSLETTER! ***
Hotdog and Ice-cream Social - ** POSTPONED **
Due to the severe weather forecast, the social was postponed to a future date TBD.
If there are other area upcoming events not listed, please send an email to newsletter@raccradio.org.

FROM THE SECRETARY: Cletus Bauer, N5XFB
We picked up 6 new members in May, so I will make a $120.00 deposit today bringing the Bank Balance to $1,792.67.
The Donations for Breakfast was $70.00, I was able to pay Jerry $110.00 for the ticket he gave me last month in cash and have $31.00 in cash left.
Jerry said everything was paid for at this time.
Cletus D.
HIGHLIGHT: QRM FROM BOB
There was a folder on the table at the last RACC club meeting with some old club newsletters. Perhaps they were the first newsletters from the club. The oldest newsletter in the folder was dated May 11, 1992, and started off with a "QRM From Bob," being Bob Jones, K5HCM. Bob has been silent key for several years now, but the club still bears his call sign. The original newsletter logo has been added to this newsletter, and Roger Fouse, KB5ROD, pays weekly homage to Bob by starting off the weekly net with Bob's signature, "Hello, radio!"
Here's an excerpt from his editorial:
As stated in the club charter, one of our primary objectives is to promote the hobby of amateur radio by offering our assistance to those who desire to join the fraternity of amateur radio operators. If you know of anyone who would like to join our fraternity, please feel free to bring them to our next meeting on June 16, 1992 and we will make a special effort to welcome them and answer any questions they may have. We are committed to assist any worthwhile individual interested in joining the ham ranks so please feel free to contact me or any of the officers or directors if you know of someone who may have questions.
The club was chartered on promoting amateur radio, and promoting amateur radio is no longer just the focus of the club, it's tradition!
One last interesting factoid: The club meeting in that same newsletter was announced to be on May 16, 1992 at the Hot Biscuit (where the Silver Spur was most recently located). That was exactly 23 years prior to the club meeting last month!
The newsletters found in that folder will be scanned into PDF and made available for download on the club's website in the near future.

FROM THE ARES COORDINATOR: Jason Patterson, KD5RQB
May 15th, the first Cass County ARES Net was conducted on the 146.98/84 linked to the 147.285 machine. There were 17 check-ins. Not bad for a first net!!!

The Cass County ARES Net is a weekly net conducted every Tuesday Night after the RACC Net on the 146.98/84 linked to the 147.285 machine. The purpose of the net is to help train Cass County ARES Members in the event that a primary served agencies primary communication network becomes over-loaded or damaged. It is important to remember that ARES is a back-up communication resource for a served agency and does not replace a served agency's primary communication network system.

The Training Net will begin with a preamble followed by roll call of Cass County, Texas and Miller County, Arkansas members. Net control will then take check-ins from ARES members in surrounding counties. After all of ARES members have been logged into the net, NCS will then give a brief a training lesson followed by weekly weather outlook.

The weather outlook alerts ARES and non-ARES members when a Skywarn Net maybe activated. Even though Skywarn and ARES are two separate programs they work hand in hand. For example a Skywarn Net is activated and a tornado touches down and causes significant damage through out the county and wipes out communication networks then ARES would be activated.

Just before net closing Net Control will give non-ARES members monitoring the net an opportunity to check-into the net.
NET INFO: Tuesday nights at 8:00pm
The RACC repeater has a full-time link to the Freedom Link Group repeaters on Cusseta Mountain, Barkman Creek in Texarkana, and Pickens Hill in Karnack. In addition to the Tuesday night RACC net, the RACC repeater is remote connected to the Howard County Emergency Amateur Radio Group on Sunday nights at 9pm, as well as the SARA repeater on Tuesday and Thursday nights at 8:00 PM.
When checking in on remote nets, please wait for the net control operator to call for check-ins in your area. They usually make the calls by county. Remember to key up and wait about one full second before you start to speak. Prefix your call sign with "Net control, this is..." This is necessary for all of the repeaters to connect up. Otherwise, the first part of your traffic will be cut off.
Repeater update: The repeater system has been quite busy lately especially with some of the recent weather events. The 146.980 repeater took two lightning strikes during the storm late Sunday night the 10th and early Monday morning the 11th. Lightning damaged the controller and the weather net was shifted from the .98 to control operation from the 146.840 machine. The system went down during the night, but was brought back up with another controller by repeater trustee Jim Collom early Monday morning. Thanks Jim for keeping us on-line! Please offer your feedback on our repeater system and usage. The 146.980 is the R.A.C.C. Club repeater and it operates at the club's desire.
FREEDOM LINK GROUP: Contact Steven Smith, W5YME or Jim Collom, N5YU
New full-time connected repeaters have been added to the Freedom Link area repeater system. The Freedom Link Group now has operational a Caddo Lake Repeater.
145.170 - 100 Hz tone operational on Picken's Hill in Karnack. This repeater has good coverage in NE Harrison County, E Marion County and S Cass County and is connected full-time with the other FLG repeaters. This repeater will assist with our SKYWARN network in these areas.
145.390 - 100 Hz tone. The Freedom Link Group, with much help from club members Jerry, Boogie, Bubba and Kyle Wayne Goodson, Richard Arthur, David Jackson, Arthur Christy, Ronnie Rumsey, Pat McReynolds, Jim and JoAnn Collom, Steven Smith and professional tower climber Rick Stringfellow from Benton, AR, we were successful at placing the new Texarkana Barkman Creek repeater in operation. Our receive antenna is located at near 400' on the 600' tower with transmit antenna located at 340' both phased to the North East. This repeater will allow the FLG users good coverage along the I-30 corridor and into SW Arkansas. This repeater is also connected full-time with the other Freedom Link repeaters.
This last Saturday J.B. Davis N5THS reported he was able to communicate in his mobile using the Freedom Link system from Mt. Vernon all the way to his home in Nashville, AR. Steven W5YME was able to have continuous communication from Bogota, TX to past Hope, AR. Bill WA5PNT has been talking with us from Rich Mountain near Mena, AR. Please offer us your signal reports.


FOUR STATES AMATEUR RADIO CLUB NEWSLETTER:
As you know by now, the Four States Amateur Radio Club has a new website with many features. This Thursday we will activate another new feature, the newsletter. Of course the newsletter is not new, but how we send it out is. The newsletter will be sent via the administration side of the website, not an email client that we copy and paste addresses. Since the registration information is stored on the website, it only make sense that we use the website as the email server as well.
With this change comes several features that are not currently available.
The newsletter will have a new and updated look.
This will allow us to email to unlimited subscribers.
You will also have access to the Tailgating section. You can buy and sell your used gear. There is no money traded here. It just provides a way to connect a buyer with a seller.
If you have missed a newsletter, not a problem. The newsletter is automatically archived. Login / Members Only / Archives / Newsletter.
Pick and choose which topics to receive information about. Right now there are 3: FSARC Weekly, Weather Alerts, Morse Code. At the bottom of each newsletter is Edit Your Subscription.

If you would like to continue to receive the weekly newsletter or other topics of interest, go to http://www.4sarc.org, click on Register, Select FSARC Newsletter / Tailgating. If you have not signed up on the website, you will stop receiving the newsletter. If you wish not to receive the newsletter in the future, then no action is needed.
If you are interested in joining the club, you may do so by Selecting FSARC Membership. This gives you full access to the website with more features.

When registering, use your callsign as your username. If you do not have a callsign, please use FirstnameLastname as the username (no spaces), ex. billsmith.

Arthur
KF5VWN

FIELD DAY 2015: June 27 & 28
The 2015 RACC Field Day will be set up in the parking lot of Novatron in Atlanta, Texas. We are going to be setting up tents, tables, chairs, Port-A-Cool, generators, etc. starting at 8am on Saturday. We will start setting up radios and antennas at 10am. Field Day contacts begin at 1pm on Saturday and will conclude at 1pm on Sunday.


The Activities Committee met at Amigo Juan's in Atlanta on Saturday, June 13th. The meeting was opened to everybody wanting to participate in Field Day. In attendance were Jeff Brown, Nelton Humphries, and the Goodson Family. A full report will be given at the June meeting, with additional planning on the agenda.


HAMFEST:

SARA Hamfest: http://www.shreveporthamfest. com
August 8 - The Shreveport Amateur Radio Association (SARA) will host the Shreveport Hamfest at the Louisiana State Fairgrounds. For more information, please visit their website.

Queen Wilhelmina Hamfest: http://www.menahamfest.net
September 11 & 12 - The 46th Annual Queen Wilhelmina Hamfest will be held at the Queen Wilhelmina State Park (Rich Moutain) just 13 miles west of Mena, Arkansas. For more information, please visit their website.


RACC Website: www.raccradio.org

Join our group on facebook! Go to www.facebook.com/groups/RACCradio/