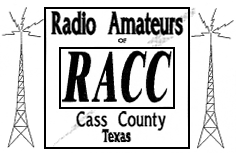 *** NEWSLETTER ***
May 2015
FROM THE EDITOR: Jerry Goodson, W5BFF

Greetings! This edition of the newsletter is quite lengthy due to the new format as well as how active the club has recently become. I just have a couple of admin notes before we get started.

First, the club has two new "official" email addresses. Newsletter items/articles/ideas may be sent to newsletter@raccradio.org. That's the email all future club newsletters will originate. Please ensure your spam filters allow that email address to come through! Club business emails may be sent to racc@raccradio.org, and will be routed to the appropriate party or parties.

Join our group on facebook! Go to https://www.facebook.com/ groups/RACCradio/

With that, let's get on to the rest of the newsletter!

73's!

-=Jerry A. Goodson=- W5BFF
430-342-3376 - Cell


FROM THE PRESIDENT: Steven Smith, W5YME
Greetings all! I hope each of you is doing well. There is a lot going on in the Radio Amateurs of Cass County! We are growing with new operators and members each month. Speaking of the new operators, be sure to see the New Area Licensed Operator section of our newsletter and get on the air and welcome these folks on board. This is a great sport that all can enjoy and so many service areas available if you desire to participate. I look forward the ARRL FIELD DAY that will take place in June. This is another way to spread the word about amateur radio. Contact Jerry Goodson, your VP and Activities Committee Chair on how YOU can help with Field Day. Jerry and his group have been doing a great job and I hope you will support them with your assistance, attendance, responses and ideas.
Speaking of the ARRL, we are very near having our club recognized as an official ARRL CLUB. Come to the meeting Saturday and not only eat a good pancake and sausage breakfast, but receive a report on the affiliation process with the ARRL, event updates and updates to our local communication systems.
73's to all and have a GREAT DAY,
Steven
W5YME
NEW AREA LICENSED OPERATORS:
Congratulations to the newly licensed area hams!
Cody "Boogie" Goodson, KG5HGA
Dylan "Bubba" Goodson, KG5HFZ
Kyle Wayne Goodson, KG5HFY
Elisabeth S. Reed, KG5HFX
Kyle Wayne is the youngest ham ever licensed in Cass County at age 8. The record was held by Tevis Pappas, K5EJD, who was licensed at age 9.

Also, congratulations goes to Danny Richard, KG5ESG. Danny upgraded to general at the FSARC hamfest in Texarkana on May 2 after purchasing a Kenwood HF radio. At the end of the day, Danny was the big winner of the ICOM IC-7200!
SCHEDULE OF EVENTS: Add to your calendar!
Hotdog and Ice-cream Social - May 14
Members will gather at the Plaza on Main on Williams St. in Atlanta, TX at 7pm for hotdogs and home-made ice-cream.
Club Meeting - May 16
The next club meeting is held every 3rd Saturday of the month. Show up at 8:30am and have a pancake breakfast while visiting with other area hams. The meeting starts at 9:00am and usually lasts around an hour. The breakfast and club meeting is open to everyone.

Daingerfield Catfish Social - June 1
The folks on the 145.320 repeater meet at David Beard's Catfish Village on Hwy 155 near Ore City on the first Monday of the third month of each quarter. They welcome all hams in the area to join in on their quarterly social event.
Field Day - June 27
The RACC club will set up for the annual ARRL Field Day in the Novatron parking lot in Atlanta this year. Field Day officially kicks off at 1:00pm CDT. There will be other activities during Field Day, and the public is invited to come and participate.
If there are other area upcoming events not listed, please send an email to newsletter@raccradio.org.
FROM THE SECRETARY: Cletus Bauer, N5XFB
The club is growing but there are still Ham that could be supporting the club.
We have 9 Family Memberships and 26 Individual Memberships.
Bank Balance as of 05-12-15 is $ 1,672.67
Hope to see everyone Saturday May 16, @ the Meeting.
Cletus D.

HIGHLIGHT: Speaking to the Boy Scouts
Jerry Goodson, W5BFF, was invited to Pittsburg, Texas, to speak to Boy Scouts Troop 210 and Troop 451 about ham radio.

Jerry walked in and started talking to the scouts Cody "Boogie" Goodson, KG5HGA, Dylan "Bubba" Goodson, KG5HFZ, and Kyle Wayne Goodson, KG5HFY, waited in the truck. Jerry gave a brief introduction, then "demonstrated" ham radio by calling Boogie on the radio via simplex. Boogie surprised everyone by walking in and introducing himself as a 14-year-old ham radio operator. Boogie, then, called Bubba. Bubba walked in and introduced himself as a 13-year-old ham. Bubba was wearing his climbing harness and spoke about tower climbing. Then, Bubba called Kyle Wayne who, of course, introduced himself as an 8-year-old ham.

Tom Harkness, N5NHF showed up a little bit later, bringing three different portable radios and helping with the question/answer session.

There were approximately twenty scouts, ages 12-18 in attendance, and approximately eight adults. By the end of the session, everyone had expressed an interested in getting licensed as amateur radio operators. Jerry left them with a copy of the current technician pool and useful study websites.

FROM THE ARES COORDINATOR: Jason Patterson, KD5RQB

There will be an ARES Training Exercise, Friday, May 15th at 8:00 PM on 146.98/84 with 100 hertz tone. The net will consist of a preamble and then roll call of current ARES Members in Cass and Miller County. Following roll call non-ARES members will be given the opportunity to participate in the net. We will be connecting our repeater system with Miller County ARES during this event.
For more on ARES or interested in joining ARES contact Cass County ARES Coordinator Jason KD5RQB at fallishere2@hotmail.com

Current ARES Members

Unit # Name Callsign
7501 JASON KD5RQB
7502 CLETUS N5XFB
7503 JEFF KA5IVU
7504 GARY W5LFO
7505 ROGER KB5ROD
7506 JOHN KD5ZCQ
7507 AJ KE5APY
7508 LARRY N5THQ
7509 CHESTER KD5EEH
7510 CARROLL KB5TCH
7511 TEVIS K5EJD
7512 JOHN KK5PR
7513 DANA K5LOF
7514 KEN KF5ULB
7515 JIMMY KE5DKY
7516 ROBERT KE5FTJ
7517 PAUL W5BPP
7518 STEVEN W5YME
7519 JERRY W5BFF
7520 NELTON KG5GMD
7521 RALF KF5WGB
7522 RONNIE KA5LEK
7523 DANNY KG5ESG
6201 BOB N5MFI
6202 MIKE N5LQV
6203 DOUG KF5WXF
6204 JOHNNY W5JRJ
6205 DENVER KC7WPM
6206 DANNY KE5THI
6207 JACQUELINE KG5BNY
6208 HAYS KG5BNZ
6209 JOHNATHAN KF5YGD
6210 BETTY KG5BQO
6211 CHARLES KF5VAA
6212 THERMON KA0BRT
6213 JEAN KF5MOY
6214 DICK AC5CR
6215 BARBARA KG5DXK
6216 DIANA N5KOM
6217 HAROLD KB5IOC
6218 PATRICK KA5VVG


NET INFO: Tuesday nights at 8:00pm

The RACC repeater has a full-time link to the Freedom Link repeater on Cusseta Mountain. In addition to the Tuesday night RACC net, the RACC repeater is remote connected to the Howard County Emergency Amateur Radio Group on Sunday nights at 9pm, as well as the SARA repeater on Tuesday and Thursday nights at 8:00 PM.

When checking in on remote nets, please wait for the net control operator to call for check-ins in your area. They usually make the calls by county. Remember to key up and wait about one full second before you start to speak. Prefix your call sign with "Net control, this is..." This is necessary for all of the repeaters to connect up. Otherwise, the first part of your traffic will be cut off.

Repeater update: The repeater system has been quite busy lately especially with some of the recent weather events. The 146.980 repeater took two lightning strikes during the storm late Sunday night the 10th and early Monday morning the 11th. Lightning damaged the controller and the weather net was shifted from the .98 to control operation from the 146.840 machine. The system went down during the night, but was brought back up with another controller by repeater trustee Jim Collom early Monday morning. Thanks Jim for keeping us on-line! Please offer your feedback on our repeater system and usage. The 146.980 is the R.A.C.C. Club repeater and it operates at the club's desire.

FREEDOM LINK GROUP: Contact Steven Smith, W5YME or Jim Collom, N5YU

Currently we have two connected repeaters in the Freedom Link Group, the R.A.C.C. 146.980 and the Freedom Link Group 146.840. Shortly the Freedom Link Group Barkman Creek – Texarkana repeater will be on-line as soon as the antennas are mounted on the tower. The interest in participating with our connected repeaters with linking capabilities is growing. At the recent Texarkana Hamfest, our local repeater trustees visited with many that are interested in connecting their systems. Several of these were in areas of Arkansas, Louisiana and Texas. Additionally the Nashville H.E.A.R. group is close to having their link on-line. The G.C.E.C. and L.E.T.A.R.C. group is also showing interest. The Freedom Link Group is also negotiating this week on the use of tower space at a location about 40 miles to our South. If all goes as plans, that will offer SKYWARN monitoring and advanced weather reporting to N.W.S. for a good portion of NE Texas on inclement weather days as well as expanded licensed operator communication on good weather days.

REPEATER USAGE & ETIQUETTE: Subject to updates or corrections along the way.

It has been asked many times, "How do I know when the repeater is open for communications?" "How do I know when SKYWARN is active?"

These are very good questions. First, the repeaters are provided for communication and need to be utilized. With that said, prior to communicating on any repeater we always need to monitor the frequency to see if it is in use. If it is in use, wait your turn. The generally accepted method of initializing a call is to transmit the callsign of the intended recipient followed by your callsign. FCC regulations then ask for you to identify your station every ten minutes during a QSO and identify at the end of the QSO. If a NET operator exist, listen for the type of net and follow the net control operator's instruction. Some nets are general conversational and informal while others may be formal. General conversation may be called "ragchew", while moving towards the more formal we have "weather nets" and "ARES or RACES" nets. The ARES or RACES nets may ask for only ARES or RACES members to check in. Again listen first. Even on the more formal nets, once tghey go through their formal procedures they may ask for "general" check ins.

TAILTONES! The tails tones are a very important factor to a connected repeater system and usage. The various tail tones tail tell the "mode" of operation.
Normal usage: When one unkey you hear a single tailbeep. If talking with another party and they unkey and there is a single tailbeep, they are on the same repeater as you. If you hear a dual tailbeep at the end of the transmission, a connected repeater exist and the party may be on one of the connected repeaters.

SKYWARN Weather Net: If you hear the bubble up tone, which is three ascending beeps, the system is in SKYWARN weather net. When in SKYWARN all traffic should be directed through the net control operator and should be weather report related. If one needs to make a short qso with another party, request permission through the net control operator, and make it short. If one requires a longer QSO, please do so by requesting your desired party to meet you on another frequency. The Freedom Link system is setup primarily for advanced weather warning to save lives. So, when in weather net, weather is a priority. The net operator is responsible to coordinate with the users, but at times others assist to help educate. Ultimately the repeater trustees are responsible for proper usage of the repeaters according to FCC part 97.

During thunderstorms or power outages, the repeaters change to a Bullfrog tailtone. This tone tells us we are on backup battery power. During battery use, the repeater is open, unless in SKYWARN, then follow net control instruction. During battery backup power, It is requested that Qsos are kept short to preserve battery power as long as possible to keep the system online.

When the weather is good, the system offers licensed amateurs expanded communications. As the outside linking system with other repeaters is implemented, we will hear a morse code "L", a di dah di dit. This tells us the communication is thru the link and to communicate with them one would need to use the link PL as well.

As previously mentiond, ALL are welcome to use the repeater system. We do hope we can educate in the proper usage and etiquette of repeater usage and desire and appreciate all that can help spread the word. When entering a club or other organizational net, as always, please listen for traffic and any instruction prior to transmission. Many of the expanded nets are called by area or repeater, so listen for your prompt.


A very important recommendation when using a system of connected repeaters. Please key up and wait a second or two prior to transmission. This allows time for all repeaters to key up and for all parties to receive the full transmission. HF protocol is very good for the nets where one either addresses the net control or begins their transmission with "This is, W5XYZ". The one to two second key not only gives the connected repeaters time to connect, but also helps when any of the parties are using the Chinese produced radios. Repeaters and radios use sub audible PL tones to activate the receivers. It takes a moment for these repeaters and/or radios to discern the tones. The Chinese produced radios seem to distinguish the tone slower than others. As all are welcome on the repeaters, keying up and allowing time for all radios to recognize the tones, also helps the users of the Chinese radios.

Closing tips: When talking through a repeater, keep your voice at a normal tone, normal volume level and keep your mic in close proximity of your mouth which is generally 2" or less. If one thinks their signal is weak and raises their voice level, then they risk the increased volume to overrun the sub audible PL tone and then the repeater will drop the signal. If one varies the distance of the mic to their mouth, it will cause varied audio output level for the listeners. To help all that monitor or communicate on the system, please make the best effort to transmit at a power level to fully open the repeater and to speak at a normal audio level close to the mic. There is nothing harder on a listener than a weak signal and white noise being transmitted through the system. As the military teaches, always make the best effort to use the right equipment to get the job done.

Now, let's get back on the radio:)

HAMFEST:

Congratulations to the FSARC for their successful hamfest in Texarkana! They had several wonderful vendors and a real nice turnout.

The next hamfest coming up in this area will be in Shreveport on August 8 at the Louisiana State Fairgrounds. More details will be available as the event gets closer.


RACC Website: www.raccradio.org

Join our group on facebook! Go to www.facebook.com/groups/RACCradio/